This is an archived article and the information in the article may be outdated. Please look at the time stamp on the story to see when it was last updated.
SMALL RAIN CHANCES THIS WEEKEND
Scattered showers are expected to form along and ahead of a cold front late Friday night into early Saturday morning mainly over the northern third of the state as the weekend gets under way.  Shower chances through the weekend look rather small or limited but not completely ruled out.  A cold front will settle south and stall through the heart of the state Saturday afternoon.  Along the front later Saturday afternoon a few showers could form along the front.  Rain chances will  rise later in the weekend as a powerful spring storm gathers strength.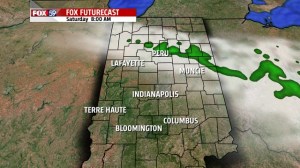 We will keep small showers chances in for central Indiana early Saturday morning, Saturday afternoon, early Sunday and then increase the rain chances by Sunday night.  Storms should emerge later Sunday and increase in coverage later Sunday night into early Monday morning.  More on the rain below.
SEVERE WEATHER SEASON SLOW SO FAR
April ranks #1 for tornado production annually, this year only 14% the normal (39) to date. For the year 109 tornadoes nationally vs the 3 year average of 468 thru the 23rd. A result of the cold pattern. More importantly no fatalities in the U.S. so far this year from tornadoes.
The Spring storm coming over the weekend into early next week has the potential to be the strongest so far this year.  SPC (Storm Prediction Center) is forecasting the potential for a multi-day severe weather outbreak that now could include a portion of Indiana.  Bases off current forecast models, there could be severe storms in the southern third of the state Monday afternoon and evening.  Stay tuned!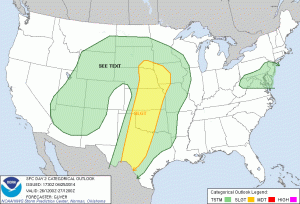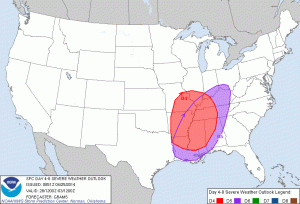 WET SPELL TO OPEN MAY
Big rains are possible here as the storm system slows and stalls starting Monday.  Lingering showers and thunder showers will continue for much of the work week with temperatures cooling sharply as May opens.  Get out and enjoy the rain free hours this weekend because next week looks very wet starting late Sunday night. 7 day rainfall totals could reach 3″+ in some locations especially in and around thunderstorms.