This is an archived article and the information in the article may be outdated. Please look at the time stamp on the story to see when it was last updated.
INDIANAPOLIS — Motorists should be on the lookout as the first major closure for IndyGo's Purple Line construction goes into effect Thursday.
While it's bringing some big improvements to the area, first it will bring some major closures.
"We're really excited about the things that are happening and we just ask those who live and drive through that area to be patient," said IndyGo Spokesperson Carrie Black.
IndyGo said the closure will affect traffic on 38th Street in both directions between Fall Creek Parkway at the Indiana State Fairgrounds and Orchard Avenue. During the closure, access to Sutherland Avenue will remain open to local traffic.
Eastbound traffic is being diverted using Fall Creek Parkway and Keystone Avenue while westbound traffic will be detoured via Keystone Avenue, 46th Street, and College Avenue.
This road closure is expected to last 10 days. After the full closure, eastbound lanes on 38th Street from Fall Creek Parkway to Keystone Avenue will continue to be closed for 130 days. During this closure, eastbound traffic will be detoured via Fall Creek Parkway and Keystone Avenue.
Westbound traffic will not be impacted and local access to all residences and businesses will be maintained during both closures.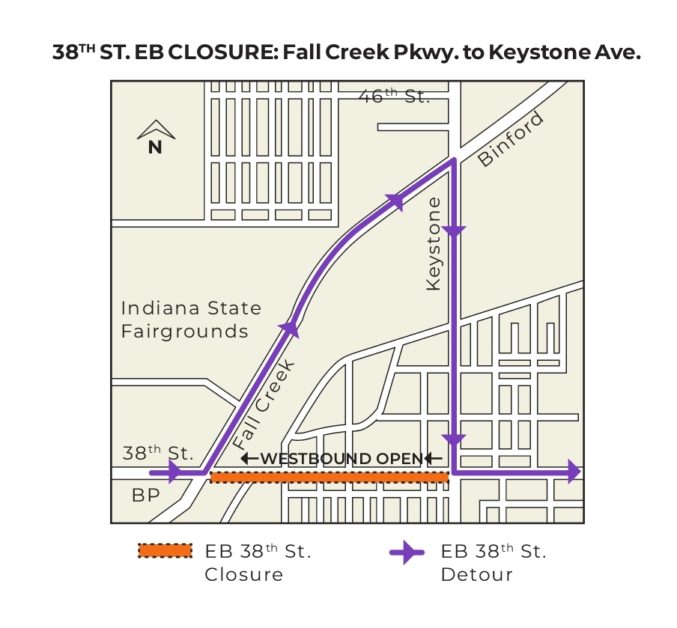 IndyGo asks drivers to plan ahead so they aren't caught off guard and so this doesn't delay their commute. They are also asking people to be patient.
"We just want people to pay attention, be mindful, obviously be careful of our construction crews that are out there. And then be excited that these temporary pains are going to yield great benefits down the road in terms of major improvements and major upgrades along the 38th street corridor," Black said.
The improvements will widen the roads, put in sidewalks, put in ADA compliant ramps, and repave roads to do things like smooth out potholes.
"This is going to make the community much more pedestrian-friendly that is much more walkable. We're paving in areas. If you've been in that area of 38th street lately you've seen some potholes that could swallow a small child."
For updates on the Purple Line construction, people can visit IndyGo's website.