This is an archived article and the information in the article may be outdated. Please look at the time stamp on the story to see when it was last updated.
The chance for scattered showers and isolated storms will continue this afternoon but radar trends have started to show less coverage in this rain mass across the state, especially in our southern counties.  By sunset, most of this rainfall will be done for the day and clouds will start decreasing.  Unfortunately with so much moisture in the air and decreasing clouds, there is a perfect recipe for fog tonight.  Fog could form as early as midnight and continue to stick around well past sunrise on Sunday morning.  Fox Futurecast is picking up on this fog layer and it's still being picked up as late at 10:30 AM.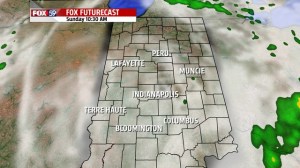 Skies turn partly cloudy once the fog finally dissipates and temperatures will start to climb more quickly. Temperatures still end up slightly below normal on Sunday.  We should end up in the mid to low 80s for the day.  Rainfall chances aren't as good on Sunday which means we'll actually get to see a few more rays of sunshine and less of a threat for rainfall.  But that doesn't mean the chance isn't there!  We will still have a 30% chance for showers and isolated storms on Sunday afternoon.  The airmass is still very tropical and moist.  With the combination of that moisture and daytime heating, isolated showers can easily develop. But it won't be a wash out to close the weekend.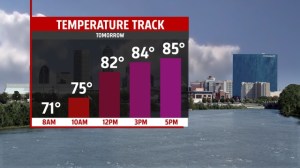 Monday will serve up a rather similar forecast with only isolated chance for showers and thunderstorms that afternoon.  Temperatures will be on the rise again as well with highs expected around 86°.  Better chance for showers and storms return on Tuesday and Wednesday as a cold front approaches central Indiana and several waves of moisture pass along this boundary.  Rainfall should continue through early Thursday morning before finally moving out of the state.  But until then, get prepared for muggy weather and warmer temperatures.