This is an archived article and the information in the article may be outdated. Please look at the time stamp on the story to see when it was last updated.
Indianapolis is quickly becoming one of the hottest food cities in America.  A destination for true foodies who are interested in everything from fine dining to food trucks.  This column will put the spotlight on one of these local hot spots to help get the word out and share in the love of all things food.
"Strong communities are built around local, real food. Food we trust to nourish our bodies, the farmer and planet."  — Kimbal Musk
Review by Dustin Heller (@eatindywatchindie on Instagram)
Who is Kimbal Musk, you ask?  Well, he is an entrepreneur, philanthropist, and restauranteur (and little bro to billionaire Elon Musk) who is considered a pivotal figure in the modern farm-to-table food movement.  Not only this, but he is also the owner of the brand-new American bistro on Mass Ave that happens to be the centerpiece of our spotlight this week, Hedge Row.
Even though neither Kimbal nor Hedge Row are originally from Indy, they are dedicated to using real food sourced from local farmers and purveyors from right here in our great state.  This is not only a win for the local farm economy, it's a win for foodies as well! The food is considerably fresher and, therefore, tastes even better.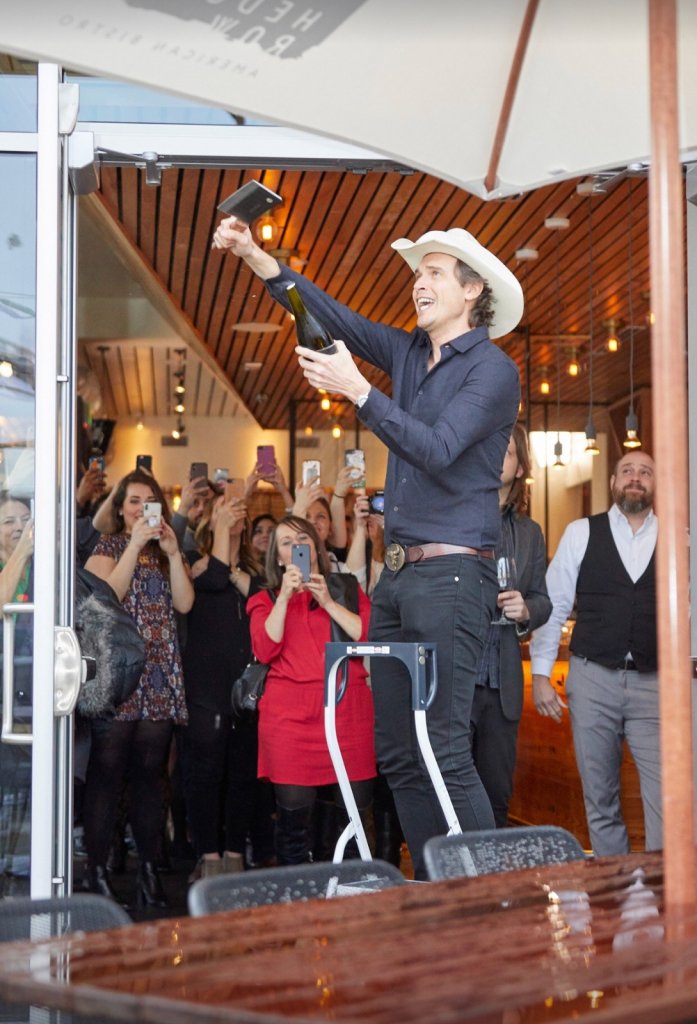 With perhaps the most desirable location in all of downtown Indy, Hedge Row stands out with its modern exterior and lively patio.  That same great vibe spills over to the interior. From the well-lit dining room to the exuberant bar area, you know immediately that this place is the real deal.  In order to have a successful business, you need to have amazing employees who believe in the product as much as you do.  This is definitely the case with everyone I've come into contact with at Hedge Row–from the servers all the way up to Kimbal himself.  That's right, I met him (wink, wink)!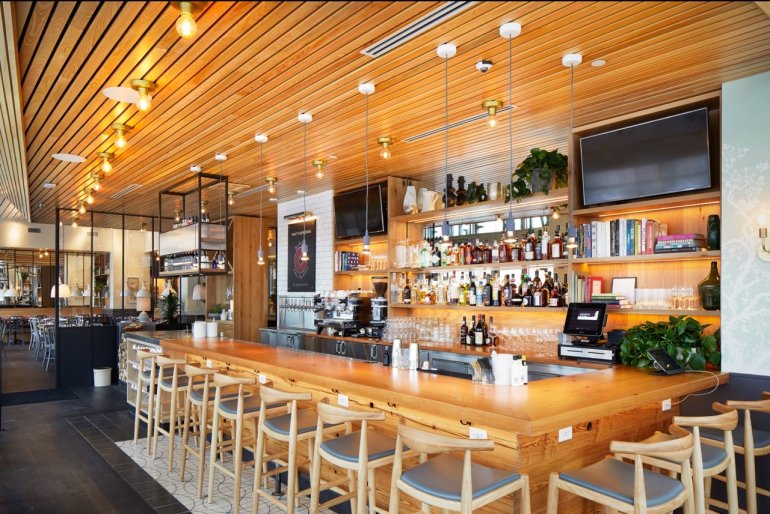 When it comes to the food, it really is all about fresh, local ingredients and that glorious wood-fired oven.  The menu is creative and the dishes somewhat simple, yet harmoniously delicious.  Hedge Row is open for lunch and dinner and is now serving brunch on the weekends (hip, hip, hooray!).  To help you out on your next visit to Hedge Row, I've selected four items from the dinner menu that I feel are "can't miss." Here we go:
Wood Roasted Half Chicken: These beautiful birds come to Hedge Row from Gunthorp Farms in LaGrange, Indiana.  Gunthorp is one of the largest pastured poultry operations in the country, and they raise their Cornish Cross chickens on pasture.  That's both local and healthier–double bonus!  The roasted chicken is fall-off-the-bone tender and full of the smoky flavor from the wood.  They pair the chicken with a delightful mustard butter-glaze, curried couscous, and garnish with apricot, toasted almond, and sumac yogurt.  We are talking about a half a chicken here, so the portion is very generous. I guess you can share if you want.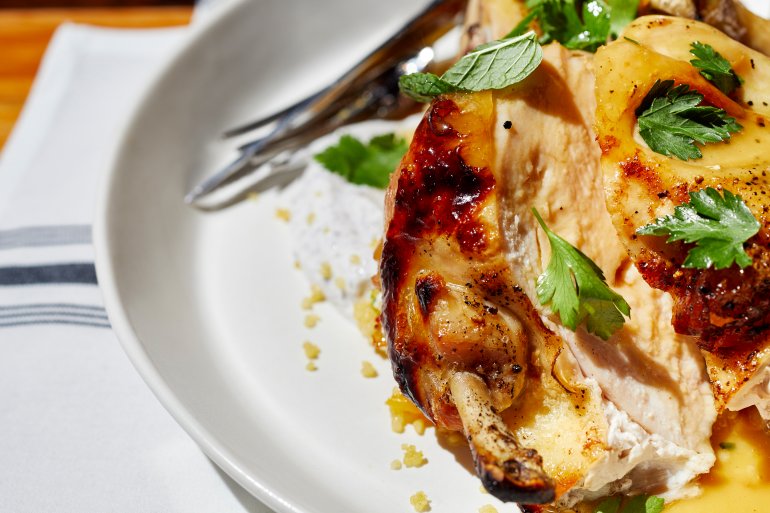 Crispy Fish Lettuce 'Tacos': You know you're eating a fresh taco when the shell is made out of lettuce.  I'm a sucker for anything that falls outside the box when it comes to food. It's an extra bonus when it tastes delicious.  These tacos may seem simple on the surface, but they are jam-packed with goodness.  The fish in question is a tempura battered rockfish, which is tender and flaky and doesn't have a "fishy" taste.  It's then fried to a perfect golden brown and topped with pickled red onion, radish, and smoked chili tartar.  They taste great and are fun to eat. What more could you ask for?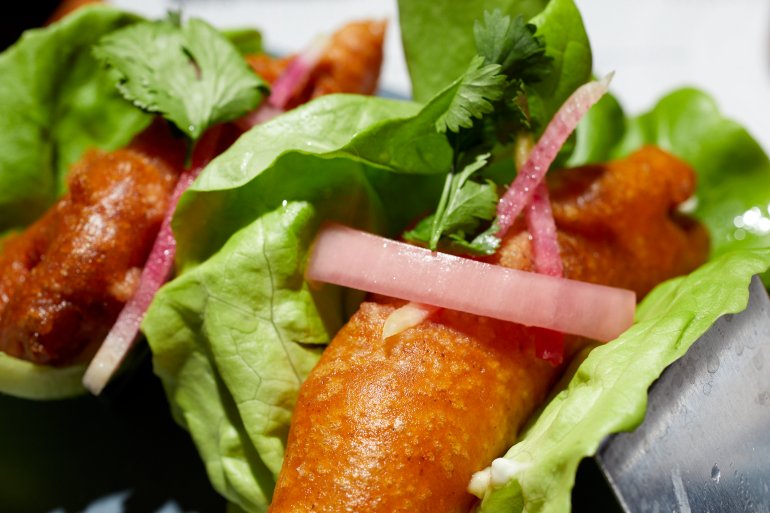 Wood Roasted Lamb Meatballs: The lamb in these glorious meatballs is provided by Viking Lamb in Morristown, Indiana, whose slogan reads: "Sheep…It's what we do." It is what they do and they do it exceptionally well.  The lamb is raised without the use of antibiotics, stimulants or hormones, pretty much guaranteeing optimal health benefits and optimal taste.  The meatballs are bathed in a Moroccan-spiced tomato sauce that is not overly spicy and meshes perfectly with the lamb.  Add to that some local feta cheese (from Jacobs & Brichford Farmstead in Connersville, Indiana) which brings a nice tangy yet salty flavor to the dish along with some nice texture.  Top it off with some fresh mint and it's go time.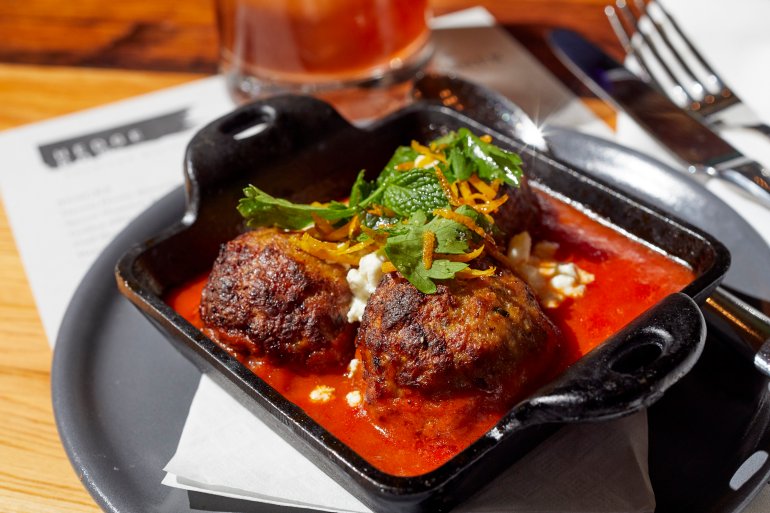 Spiced Hummus & Veggies: This is quite possibly the perfect start to any meal, and not just at Hedge Row.  The hummus has a very smooth texture and is chock-full of flavor from the spices.  It is sprinkled with sumac (a popular spice in Middle Eastern and South Asian cuisine) and then covered with a luxurious caramelized fennel and onion blend.  I'm getting excited just thinking about it!  They serve it with fresh seasonal veggies that not only taste great, but are also very pretty (see pic below) and add homemade lavash crackers.  It's perfect for dipping and sharing, if you're feeling generous.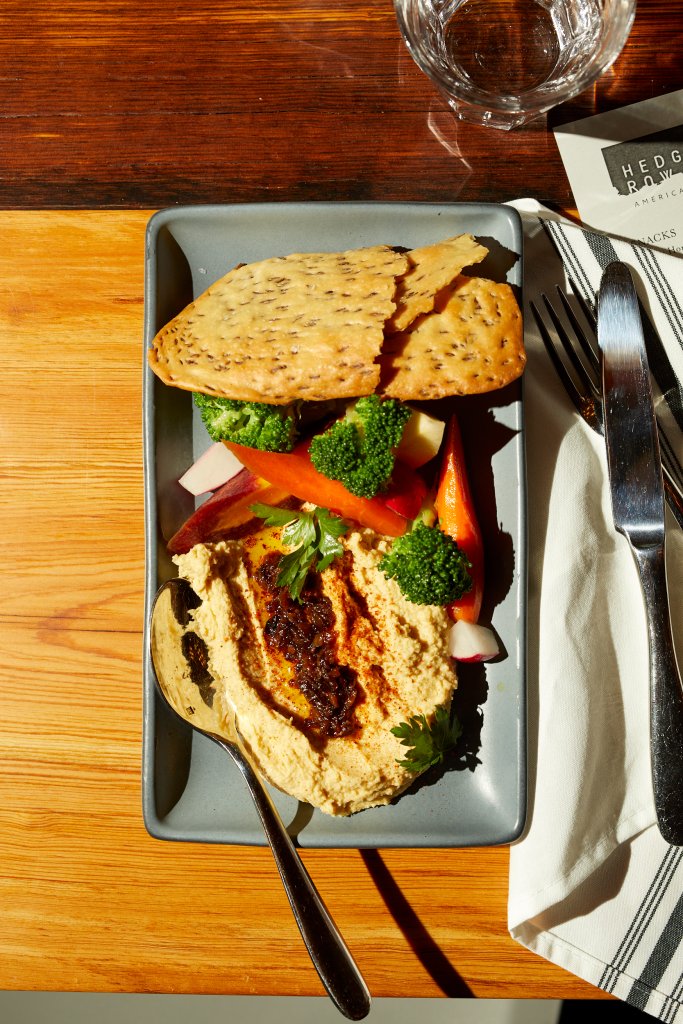 Hedge Row is still a new kid in town, but some of you might be wondering about Kimbal's even newer restaurant, Next Door.  All I can say to that is…stay tuned…