This is an archived article and the information in the article may be outdated. Please look at the time stamp on the story to see when it was last updated.
Indianapolis is quickly becoming one of the hottest food cities in America.  A destination for true foodies who are interested in everything from fine dining to food trucks.  This column will put the spotlight on one of these local hot spots to help get the word out and share in the love of all things food.
Review by Dustin Heller (you can win a gift card to Rusted Silo by visiting his Instagram page)
By a show of hands, how many of you have ever been to Lizton, Indiana?  Personally, I know this small town all-too-well because it happens to be where I graduated from high school, but we're not here to talk about my not-so-glory days.  We're here to visit a new Southern BBQ joint that has taken Hendricks County by storm while gaining attention across the state.
Rusted Silo Southern BBQ & Brew House is located at 411 North State Street in Lizton (just south of the I-74 exit ramp) and has been pumping out some of the tastiest BBQ this side of the Mason-Dixon Line since opening in April 2018.  If you won't take my word for it, IndyStar just recently named it "Best BBQ Restaurant in Indianapolis."
Now do I have your attention?
Owner and pitmaster Rob Ecker, a Florida native, brings 25+ years of Southern cooking experience to small town USA, where he has transformed a former liquor store into his own BBQ paradise.  As you pass through the front door, you'll almost immediately feel transported to a local BBQ joint in the Southern United States.  Ecker told me the story of a woman from Rockville who broke down in tears on her first visit as it reminded her of her home in the South.
In only six months of operation, Rob already has a number of stories just like this, which really speaks to the charm of this place (Pro tip: start a conversation with Rob…he's hilarious!).  The dining area is small and intimate and the décor is rustic farmhouse.  The highlight of the place is, without question, the rotating smoker right behind the counter for everyone to see.  The smoker is stocked with hickory and cherry wood. You can smell it from the road–talk about mouth-watering!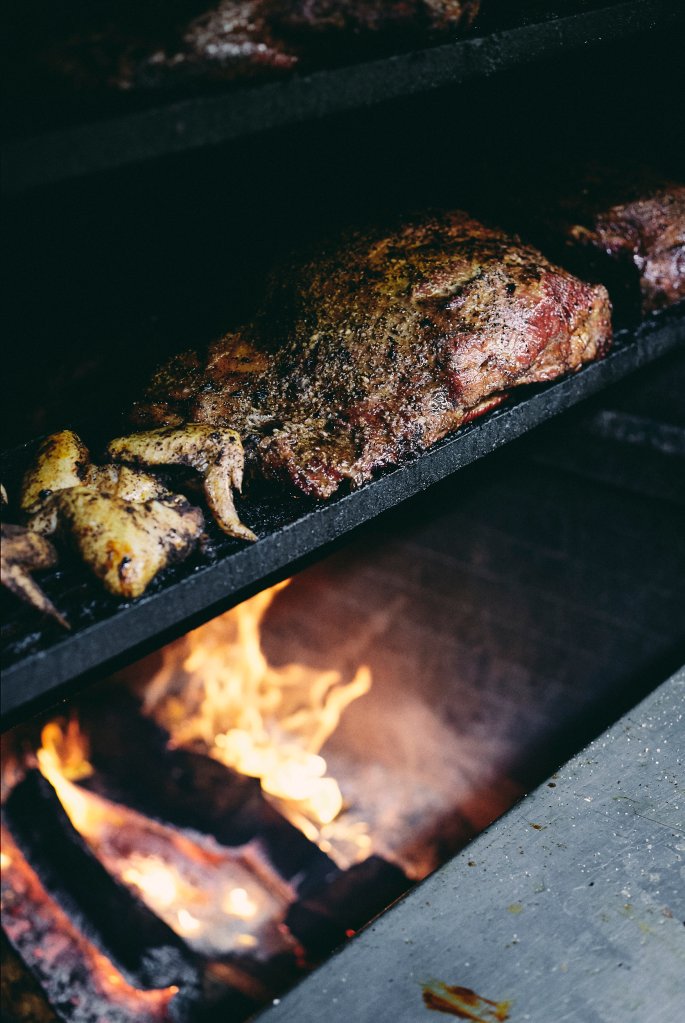 As for the food, everything on the menu is made fresh in-house and they try to locally source as many of their items as possible.  They are a farm-to-table restaurant without the farm-to-table prices.  The menu has all sorts of tantalizing goodies, but let's be honest–we all go to a BBQ joint for the meats.  They have smoked beef, pork, chicken and sausage. What more could you want or need?
To complement these delicious meats, they offer four house-made sauces: Kentucky Bourbon BBQ, Habanero Bourbon BBQ, Carolina Mustard, and Alabama White.  The Southern Treats on the menu are seasonal sides that are prepared daily; the Southern Sweets are the down-home desserts.  I've had the privilege of sampling pretty much everything on the menu, so I feel pretty confident in offering up these four "can't miss" choices:
Beef Brisket: Regular readers of this column know how much I love sauces, and that statement is magnified at a BBQ restaurant.  No offense to the Rusted Silo sauces, but we just don't need you right now.  This brisket is tender, juicy and loaded with delicious smoky flavor.  The dry rub applied to the beef creates a bark that's almost unfair.  No, I'm not talking about a tree or the noise a dog makes, I referring to that delicious outer layer of crust on the beef after its been smoked for hours on end.  Whether you order this as a sandwich or as a plate, just make sure you get it!  They also sell it by the pound if anyone wants to drop some off at my place.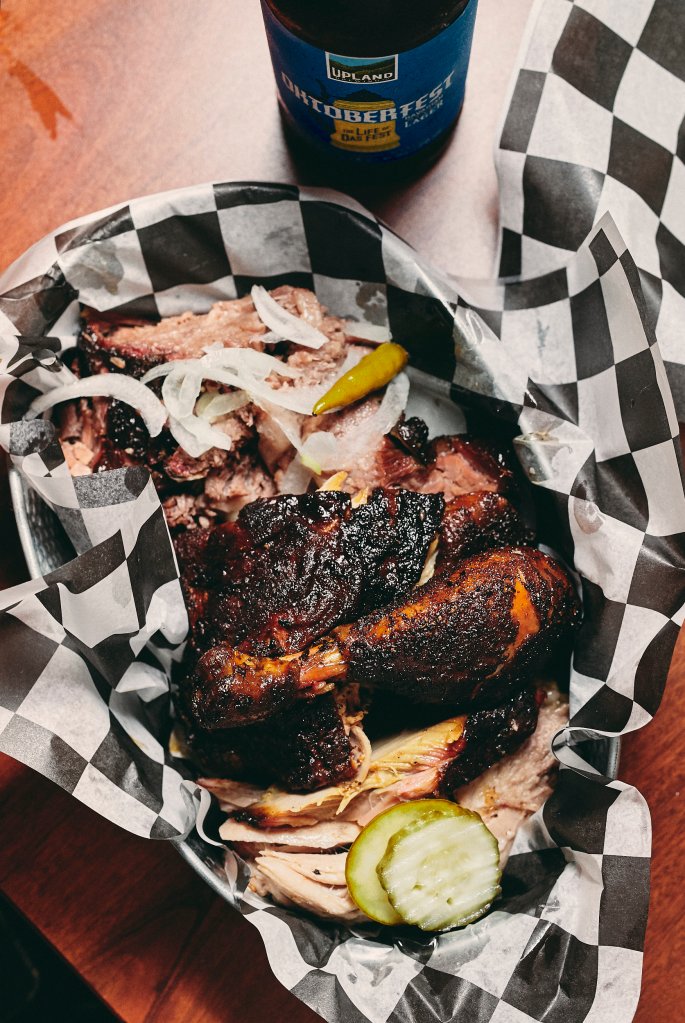 Cheese Grits: Any self-respecting Southern BBQ place is going to serve cheese grits; it's how they are prepared that makes the difference.  Rusted Silo prepares their cheese grits daily (no leftovers here) just like grandma used to do.  They use stone-ground yellow corn grits that come from Weisenberger Mill in Midway, Kentucky.  The grits are folded with cheddar cheese and then slow-cooked until they are perfectly creamy.  I hear complaints all the time that grits are bland and boring. Well, the complainers obviously haven't tried Rusted Silo's grits.
Spare Ribs: Not to be mistaken with beef short ribs, spare ribs are pork taken from the belly side of the pig's rib cage just above the breast bone.  There is typically more bone than meat on a spare rib and it does contain quite a bit of fat, but they sure are tender and oh-so-tasty.  The smoke from the hickory and cherry wood give the ribs a marvelous smoky sweet flavor.  If someone asks if you could spare any of your spare ribs, the correct answer is "NO!"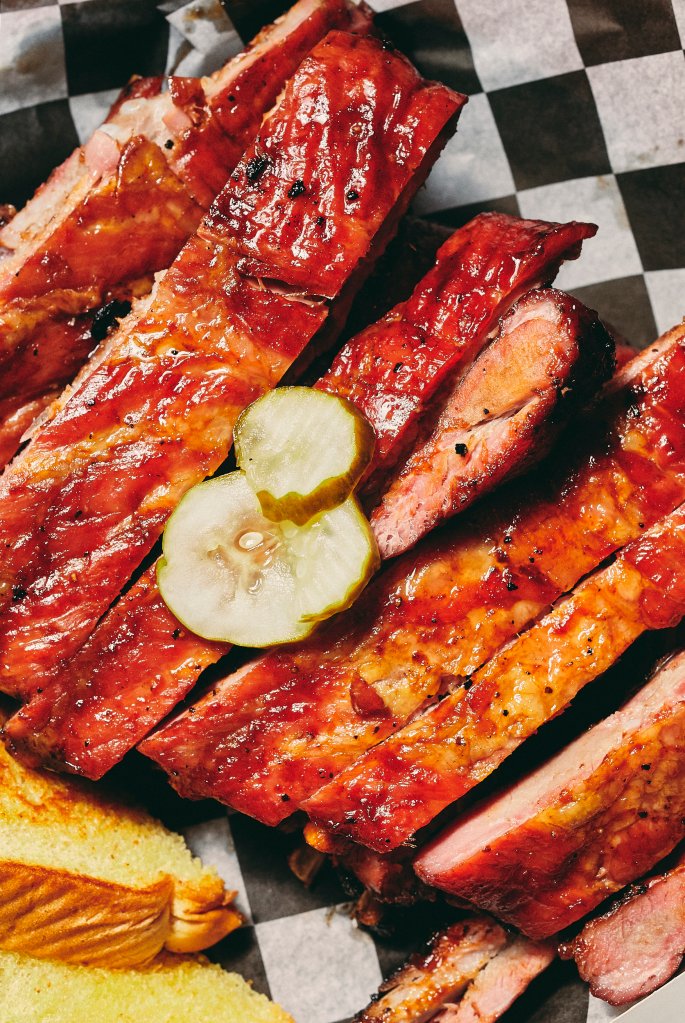 Peach Cobbler: Warning!  Warning! DO NOT SKIP DESSERT!  I almost made this mistake because I thought, "This is a BBQ joint, they don't care about dessert."  Boy, was I wrong!  I'm highlighting the peach cobbler here, but I'd recommend trying all three desserts. You won't be disappointed.  The peach cobbler is served hot and every bite literally melts in your mouth.  This could possibly be the first peach cobbler in history that wouldn't be made better with ice cream.  It's perfect just the way it is!
With that, I'll leave you with a quote from the legendary Anthony Bourdain: "Barbecue may not be the road to world peace, but it's a start."