This is an archived article and the information in the article may be outdated. Please look at the time stamp on the story to see when it was last updated.
Indianapolis is quickly becoming one of the hottest food cities in America.  A destination for true foodies who are interested in everything from fine dining to food trucks.  This column will put the spotlight on one of these local hot spots to help get the word out and share in the love of all things food.

Review from FOX59.com contributor Dustin Heller
I guess there is a reason that us foodies spend so much time on Mass Ave…it's because of the food, of course.  This week we're headed to the Southern tip of restaurant row to visit a gastropub serving up down-home comfort food specializing in the Southern classic, fried chicken.  The Eagle (310 Mass Ave) is a food and beer hall from the same people that brought us Bakersfield (2 doors down).  The Eagle first planted its roots in the Over-the-Rhine district in Cincinnati back in 2013, and now they have locations in Columbus, Louisville, and my favorite, Indianapolis.  Located on the corner of Mass and Delaware, The Eagle specializes in all things Americana.
The interior of The Eagle is dark and rustic, with reclaimed wood and exposed brick walls being the focus.  The restaurant is centered around the enormous bar area where you can kick back with a drink and watch your favorite sports on the surrounding TV's.  If a sports bar isn't your thing, don't worry, they have hanging wood dividers blocking the TVs for a more intimate dining area (pretty smart if you ask me).  The real gem is the outdoor patio area that comes alive on hot summer days.  One of the best locations in the city for people watching and hanging out with friends.  This is a must-do for everyone.
When it comes to the food, everything is centered around their famous fried chicken.  They use cage-free, free-roaming, all-natural chicken; then they brine it, dredge it, and drop it into their custom-built fryers.  If that wasn't enough, they serve it up with their house-made hot honey for a little extra kick.  In general, the food is on the spicy side at The Eagle (which I personally love) so keep that in mind when ordering.  Aside from the fried chicken, the menu has a nice selection of snacks, salads, sandwiches, and sides.  I would recommend gathering up a group of your friends and trying The Eagle Family Meal, it's a great way to experience what The Eagle menu has to offer.  Now that I've told you what they have, I'm now going to tell the items that shouldn't be missed at The Eagle.  Here is my list of "can't miss" items:
Sausage and Kale Dip…Forget about boring ol' Spinach Artichoke dip, Sausage and Kale is the dip of the future.  This is listed on the "Snacks" portion of the menu, but you might just want to order this as your main course because it is so delicious.  They combine country sausage (with just right amount of spice), kale, roasted red peppers , and a 5 cheese blend into their mini skillet and bake it to perfection.  Grab a warm tortilla chip and dive right in.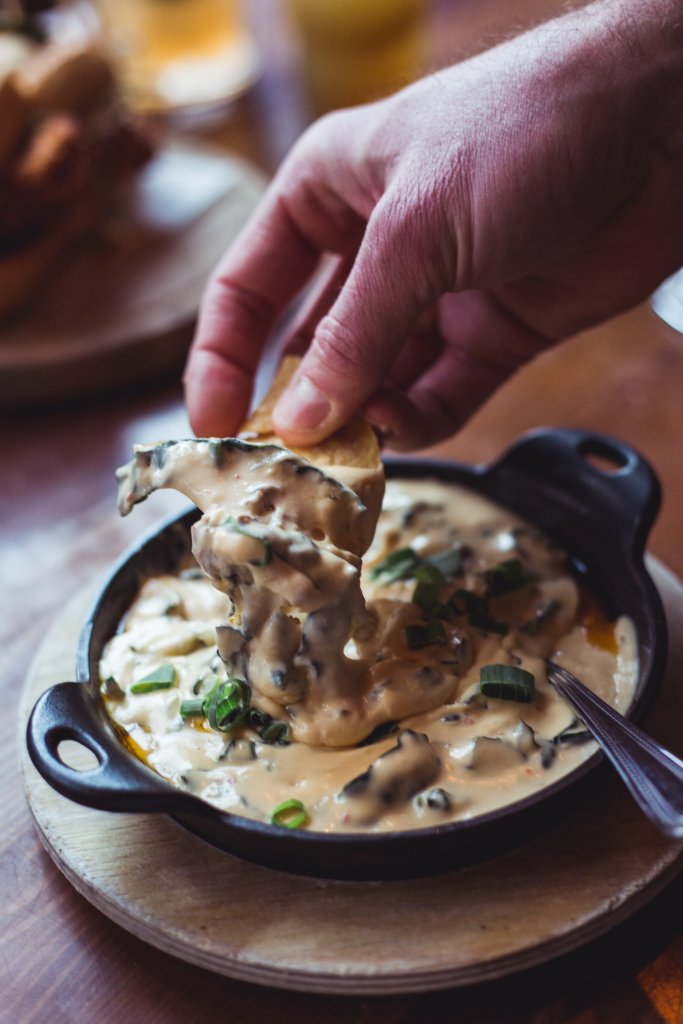 Kale (Salad)…Hmmm, I'm starting to sense a theme here.  Back to back kale is a first for this column.  This is not only one of the best kale salads in the city, it's one of the best salads in the city.  They start with Tuscan kale and then add apple, bourbon soaked raisins, cornbread croutons (delightful), sharp cheddar, and top it off with their sweet, yet tart, cider vinaigrette.  As a general rule, I'm more of a meat and potatoes guy, but I'd gladly go back just for this salad.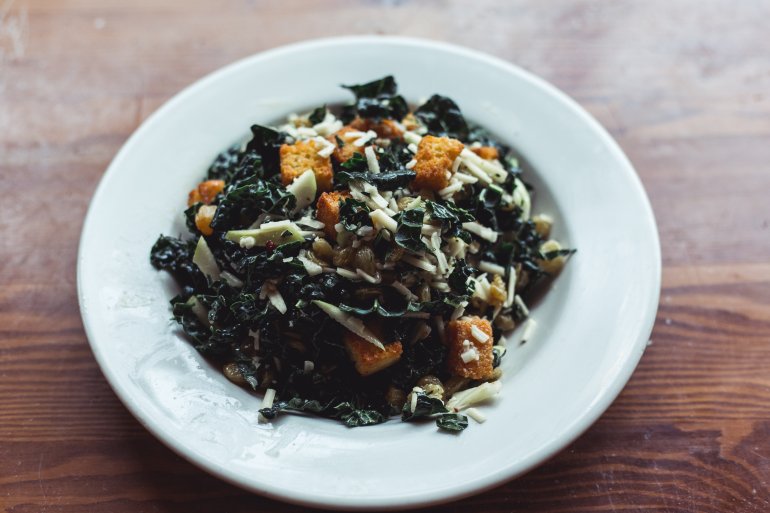 Fried Chicken (Sandwich)…I specified sandwich because, ya know, they are known for their fried chicken.  The fried chicken is outstanding, but the fried breast in sandwich form is where it's at.  The chicken breast is big and juicy, and the breading on the outside has some nice heat (but not overbearing) and the perfect crunch.  They top it off with cole slaw, spicy mayo, and house pickles to really kick your taste buds into overdrive.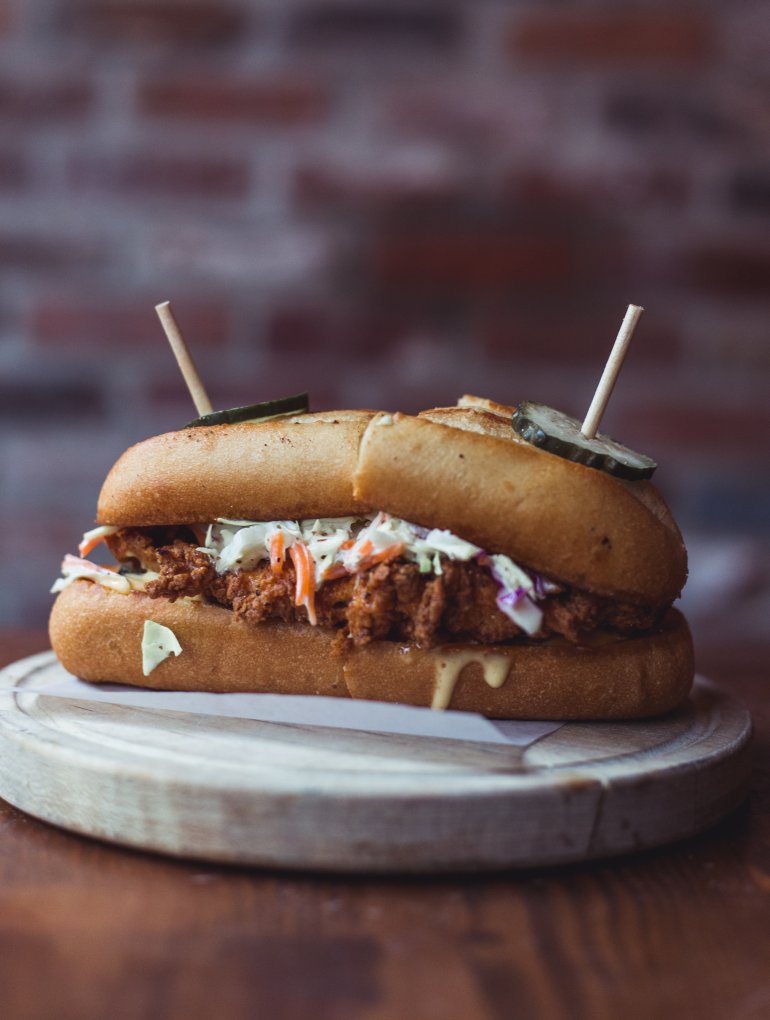 Mac & Cheese…When it comes to soul food, mac & cheese is as good of a measuring stick as any, and I'd like to consider myself somewhat of a connoisseur in the area.  The Eagle mac & cheese is sneaky because they add peppers into the cheese mixture (5 different cheeses!) which gives it a little bite and a really great flavor.   Throw some garlic breadcrumbs on top and you've got yourself one mighty fine mac & cheese.
If those choices don't whet your appetite or take you back to your country roots, The Eagle menu has many other exciting things to tickle your fancy.  So, all you foodies out there, go get some warm comfort food in your belly while the weather is cold outside…but keep in mind that Spring is right around the corner, and so is the opening of their outstanding patio.