This is an archived article and the information in the article may be outdated. Please look at the time stamp on the story to see when it was last updated.
INDIANAPOLIS – Located past the ticket table and to the left was the perfect example of a school's connection to an alumnus.
A long rectangular white table featured two piles of shirts being sold by two people. One contained gold shirts, the other featured black ones. Combined they numbered around 150-at least at the start.
At 6:45 P.M., 45 minutes before the start of Decatur Central's basketball game, everyone one of those were gone or spoken for.
"We're taking pre-orders and there is also a website," said Jasmine Fishbangel, who sold T-Shirts before the game.
When asked about how many pre-orders she had, Fishbangel said 20.
The thing that made these items so enticing to the crowd attending the high school's game against Mount Vernon on Saturday night was their subject. The gold edition featured a blue ribbon with a Decatur Central Hawk logo and #15 at the bottom with the word "ALECSTRONG"
No ribbon on the black shirt but just this phrase: "Together We Are Stronger-ALECSTRONG."
They were a tribute to Alec Dye-a 2009 graduate of the school-who was an airman in the United States Air Force. Dye disappeared last Monday while on a base where he was station in Guam since September.
Human remains were found two days later and shortly after they were identified as those of Dye. The Decatur Central community collectively mourned the loss in the aftermath but found the proper place to grieve on Saturday night.
"He's my baby," said Alec's mother Donna, in tears and emotional with other family and friends surrounding her. "I wish he were here."
But they were. At this point, it's the best place every one of them could have been.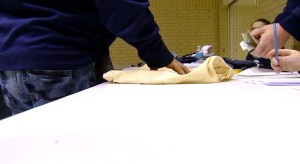 —
A look at the past 20 years of Decatur Central basketball shows one shining moment amongst a collection of seasons that bordered on the average.
That was 2008-2009, when a Hawks teams that didn't have a winning record suddenly found themselves in the Indiana basketball conversation. They began the season with six-straight wins and by the time the season was over they were Mid-State Champions with an overall record of 17-2.
Number 15 played a major part in that effort.
"The first thing they think about Alec, the first thing they think about is basketball," said former teammate Blake Beasley-who helped the Hawks to their success in 2009. "He was a great friend and an even better teammate."
Over the past 20 years that seasons was by far the best for Decatur Central and Dye's part on the squad was a big talking point among those teammates who returned to the school on Saturday.
He was a two-time All-Conference selection and still holds the school record for assists with 381.
Those he dished those out to-his former teammates-mostly wore the black version of the "ALECSTRONG" T-Shirts and exchanged hugs with each other along with family.
"He passed the ball to Blake a lot, scored a lot of points," said former teammate Devon Sharpe who attended the game along with his brother Pat, who also was on the team with Dye. "Him and Pat worked together, on the court and off the court."
With many of those teammates surrounding him, Devon got a little more emotional in reflection.
"This team was exceptional in basketball and we had great friends," said Sharpe. "As you can see by the support we have here we have a great community for people to come and be apart of. But Alec really loved basketball, worked really hard and he really knew the game.
"Basketball really lost a good person."
That career extended beyond those teammates and Decatur Central. Dye played one season for UIndy, appearing in 16 games and averaging just under a point a contest. He entered the Air Force after that and in September found himself in Guam where he picked up the game again.
Another former teammate, Andrew Kinnard, said that Dye was playing for the Air Force basketball team on the base in Guam up until his death this week.
"He loves the game," said Kinnard simply of his friend. "One of the better players on the court at all times."
Just before 7:30 P.M., they were all back there again.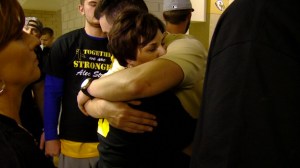 —
Usually something like this happens about 70 miles to the northeast of Decatur Township.
On Friday night in Upland, thousands of students at Taylor University participate in the "Silent Night" Christmas Game. One of these traditions is to wait until the tenth point to cheer and when it's reached by their team, the faithful erupt into a euphoric roar and even invade the court for a short time.
Alec Dye's memory helped to bring it to Decatur Central on Saturday.
"They're amazing," said Alec's aunt Tammy Coston of the fans of Decatur Central.
She along with Donna, the rest of Alec's family and teammates were in the front two rows opposite the scorer's table when a one-game refrain was made by the Hawk rooters.
Until the 15th point of the game, the fans didn't cheer when they team made a good play or visiting Mount Vernon had a bad one.  When Damani McEntire drove down the lane and got a hoop in the final minute of the first quarter to push the lead to 16-all of the fans let out a big cheer.
"He wouldn't want it any other way," said Beasley of the tributes paid to him during a Decatur Central basketball game. "He's got so many memories in here. This is where he felt at home."
That tribute, of course, was just one of many on this night. To start, the Hawks' current team sported the gold shirts during warmups and kept them on unless they were called into the game.
Dye's No. 15 jersey was placed over the chair closest to the scorers table. On the table itself a gold "#15 Alec" was written between the pair of illuminated signs.
While being introduced the crowd each starter for Decatur Central ran across the court to greet Donna and here family before returning to the team's huddle. "Let's win for Alec" was said by one of the players before breaking that huddle and heading to the bench.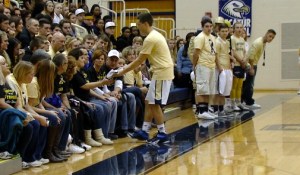 Before that came a moment of silence in Alec's honor. The preceeding was a presentation of a No. 15 Decatur Central jersey to the Dye family which the school announced it would retire.
Senior Brandon Long-who wore that jersey-was the one who handed it to the family.
"This school is awesome," said Donna Dye. "These students are the best."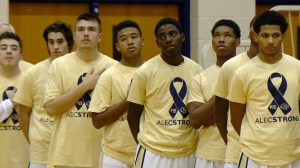 --
It didn't end up quite the perfect tribute night for Dye. Decatur Central lost a hard-fought 69-66 game to the Mauraders to fall to 1-2 on the season.
It's the first of many contests for the Hawks this year, but none will quite be like the one on Saturday.
An ultimate tribute for Dye's family will come this week when Alec is laid to rest during a full military funeral at West Newton Cemetery.
Many of the teammates that were in those first rows at the game Saturday will be back for one final goodbye then. But it's this night that really fit their friend and family member.
"Alec, I know, is looking down on us all right now and he's giving a big smile like he always does because he has the best smile that anyone has ever had," said Coston. "He's loving this right now. He loves his family. He loves his mama so much."
At this moment, hugging Donna Dye, Alec's aunt takes a look around at those surrounding.
"It's just great. Everything everybody is doing in this community," said Coston. "This community is so strong. They've been so wonderful to our family. We just don't know how to thank everyone for their support."
Evidence of that comes from an empty white table that an hour earlier was full.