This is an archived article and the information in the article may be outdated. Please look at the time stamp on the story to see when it was last updated.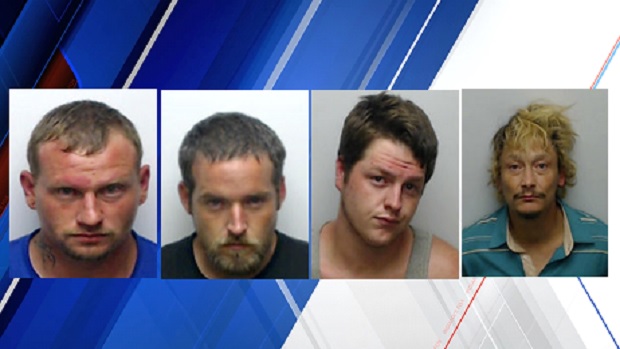 UPDATE (June 24, 2015)– Authorities say the main source for the distributed drugs was arrested in Bremen, Ga. DEA agents confirm Charles Wilbur Pruett was taken into custody. Pruett allegedly had a gun, pills and meth on him at the time of his arrest. FOX59 is told Pruett has a lengthy criminal record and was wanted on a parole violation warrant.
CLARK COUNTY, Ind. (June 22, 2015)—Four people were arrested in Clark County in connection with the HIV epidemic in southern Indiana.
DEA agents said Michael Elkins, 34, and Jon Morgan, 28, have been charged with felony counts of Dealing in Methamphetamine, Possession of a Narcotic and Possession of a Controlled Substance (Opana). Two additional suspects — Tyler Turner and William Thrower, have been charged with felony Dealing in Methamphetamine and Maintaining a Common Nuisance.  All charges are currently being handled by the Clark County, Indiana Prosecutor's Office.
In April of 2015, the DEA Indianapolis District Office became aware of an HIV epidemic occurring in rural Scott County and Clark County, Indiana from drug users injecting Opana and sharing needles amongst themselves. After interviewing law enforcement sources in Scott County during May of 2015, DEA learned that the number of HIV infected people in the county totaled over 150. It was learned that Opana, other opioid prescription pills, and methamphetamine are the drugs of choice that have contributed to the HIV epidemic.
DEA Indianapolis, the Indiana State Police and the Scott County Sheriff's Department built a coalition due to the need for a multi-jurisdictional and multi-agency response to address the burgeoning HIV and Opana problem.
During the course of the investigation, Elkins, of Cartersville, Georgia, was identified as a methamphetamine source of supply, and he was responsible for the transportation of methamphetamine on a bi-weekly basis to Scott County, IN.
On June 16, 2015, Elkins and Morgan were arrested in Henryville, Indiana, after law enforcement officers received information that they were traveling to Indiana to distribute drugs.
During a subsequent search of the truck Elkins and Morgan were driving, law enforcement officers discovered and seized approximately four ounces of methamphetamine, 19 Opana pills, and an AK 47 Assault Rifle.
The on-going investigation has revealed that Elkins had traveled to Scott County numerous times over the last eight months to distribute methamphetamine in multi-ounce to kilogram quantities. The investigation also revealed that Elkins obtained Opana pills in Alabama and was distributing them in Scott County due to the high demand and huge profit margins where Opana is being sold for as much as $160 per pill.
Based on additional information, a search was conducted of Elkins' residence in Georgia, which resulted in the seizure of additional methamphetamine and $10,500. Further investigation led investigators to a source of supply in Bremen, Georgia, who coordinated multiple shipments of methamphetamine and agreed to provide Elkins with Opana pills on a monthly basis for distribution in Scott County, Indiana.
On June 20, 2015, DEA Indianapolis and Indiana State Police Investigators stopped two couriers, identified as Tyler Turner and William Thrower, in Clark County, Indiana and found them in possession of approximately one-half pound of methamphetamine.
Elkins, Morgan, Turner and Thrower remain in custody in the Clark County, Indiana Jail under a $50,000 cash only bond.  Additional arrests are anticipated in this investigation.