This is an archived article and the information in the article may be outdated. Please look at the time stamp on the story to see when it was last updated.
UPDATE (April 29, 2019) — Prosecutors dismissed the charges against Heath Kimberlin, saying there were evidence problems. They are pursuing the case against the other defendants.
GREENFIELD, Ind. – Police arrested four people, including two juveniles, after an 8-week-old baby was severely injured. According to investigators, the baby's injuries are consistent with shaken baby syndrome.
First responders were called to the Greenfield home last month after the family says the infant was coughing up blood. According to court documents, the baby's family didn't want to take him to the hospital, saying they just wanted EMS to evaluate his condition.
The following evening, they took the baby to the Hancock Regional Hospital Emergency Room. Doctors report the baby's skin was cool, and he was blue and gray. He was flown by Life Line to Peyton Manning Hospital.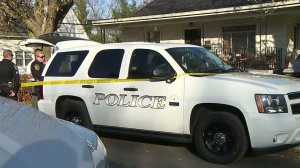 The baby was found to have numerous injuries including broken ribs, brain injuries and injuries to his neck and spine.
The baby is stable, but he remains hospitalized with severe injuries. He was placed in the custody of DCS.
Heath Kimberlin, 41, faces three felony counts of neglect of a dependent resulting in serious bodily injury. Pearl Holland, 37, is  facing two counts of neglect of a dependent.
Prosecutor Brent Eaton confirmed he is also working to file criminal charges against the baby's teen father and teen mother.