This is an archived article and the information in the article may be outdated. Please look at the time stamp on the story to see when it was last updated.
WASHINGTON D.C. – A long line of motorcycles escorted the bus Jamie Bradway was riding in, memories of her husband's funeral came rushing back. Indianapolis Metropolitan police officer Rod Bradway was killed in the line of duty just eight months ago. It has been an emotional time for his widow as she attends National Police Week held in Washington, D.C.
"You just have to sit there and take it all in," said Jamie Bradway.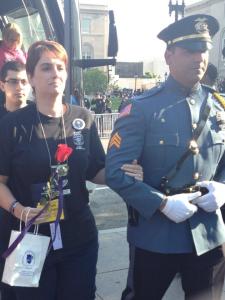 Officer Rod Bradway's name was engraved on the National Law Enforcement Officers Memorial. His name was read along during a candlelight vigil, along with the names of other officers killed last year.
The Fraternal Order of Police, Lodge 86 sent Bradway's widow and children to D.C. for the week. They received counseling services and had a chance to meet with other survivors. The families of fallen police officers are called survivors for the sacrifice they have endured.
"I'm holding up, I've got a lot of support here. It's amazing the number of people that are here," said Bradway.
IMPD officers made the trip to our nation's capital to support the Bradway family. More than a dozen honor guard members made the trip, along with several mounted officers and other officers who wanted to honor their fallen brother. They are joined by the Fraternal Order of Police and an organization called Concerns of Police Survivors.
Jamie Bradway credits the outpouring of support for getting her through this unbelievably difficult time. She said the IMPD family has wrapped its arms around her as she continues to grieve. This strong woman, now a widow, wants everyone to remember the risk officers take on a daily basis.
"They run toward the gunfire, toward the evil and the unknown. They get up every day, put on that Kevlar, and they carry that gun and protect the people that they don't know," said Bradway.
Officer Bradway will be honored during a wreath laying ceremony at the U.S. Capitol building Thursday morning. Vice President Joe Biden is expected to address the audience.