This is an archived article and the information in the article may be outdated. Please look at the time stamp on the story to see when it was last updated.
INDIANAPOLIS, Ind. – A southeast side neighborhood is cleaning up glass in homes and cars after vandalism over the past week that involved a BB gun, among other acts of vandalism.
FOX59 found four reports of vandalism in the Muirfield neighborhood, which is located east of Combs Rd. and north of Stop 11 Rd., between Sept. 6 and Monday, Sept. 11. Our news crew, with additional information from viewers, found three vehicles that had vehicle windows shattered from what police and residents believe was caused by a BB gun.
At least one home had holes in the windows and siding. One BB was sitting on the window ledge Monday afternoon. The homeowner said she had more than $1,500 damage, which also includes two shattered windows to her SUV.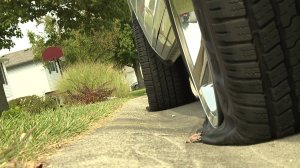 Another vehicle had all four tires slashed. Other victims said the BB gun damage made their vehicles "undriveable."
Police said committing crimes with a BB gun can put the person responsible in a great amount of danger, if a victim sees the gun and thinks it's a more powerful weapon.
"If they feel threatened, they might take action then," said IMPD officer Jim Gillespie. "So if you have juveniles or whoever it is carrying around a BB gun and someone feels they are in fear for their lives that poses a risk to them, they could have a real gun and then there's a real problem, especially for the subject carrying a BB gun around."
Ken McKinney has lived in the neighborhood for 26 years. He and a neighbor said vandalism is nothing new for them. While neither were victims during the recent rash of incidents, the vandalism is giving the Vietnam veteran second thoughts on how much longer he wants to call the area home.
"We'd like to move because of that stuff," said McKinney. "I know we're not the only neighborhood that's been like this but it's getting worse."
Garrett Love had a passenger window shattered at the hands of a BB gun. He spent over an hour cleaning out the glass in the seats.
"I understand stuff happens but it still makes you real mad," Love said.
Love said he heard the BB gun go off, but thought kids were outside playing with small fireworks. He added he wasn't sure how he would react if he saw the whole thing happen. He wouldn't know what kind of gun the vandals had.
"Especially at a distance," Love said. "If you look out your window, and you see them at your car, getting ready to shoot it out, you can come out and something else could happen."
Gillespie said the best thing anyone can do when they see vandalism is call police. With the incidents over the past week, expect more police in the neighborhood to possibly stop further vandalism.
"Any time we see there's accumulative reports in a certain area, definitely react to that because we want the neighborhoods to know we are there," he said. "We want them to feel safe, wherever they are living."