This is an archived article and the information in the article may be outdated. Please look at the time stamp on the story to see when it was last updated.
Trainer Marissa Dub was listed in critical condition after being bitten by a tiger she was caring for Friday.
"The tiger was basically resting with her head in its mouth," said Clay County Sheriff's Deputy Chief Rob Gambill. "They were afraid to rush in immediately because they thought that might cause the tiger to become more aggressive and continue hurting her."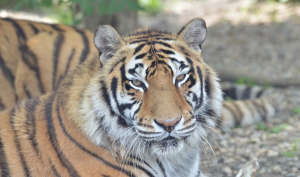 According to reports, Dub was cleaning up the area where Raja the tiger lives at the Exotic Feline Rescue Center near Terre Haute. Dub moved Raja to a pin so she could clean the animal's habitat, but a door did not get closed completely.
"She got to about 10 feet away from that opening when the tiger attacked her," said Gambill.
The tiger bit the 21-year-old's head.  Dub was flown to Wishard Hospital in Indianapolis.  Gambill said she had skull fractures.
Staff at the center distracted the cat by throwing some meat into a corner. They also sprayed water on Raja to get it into a containment area.
The attack is a shock to people who love the more than 200 animals and those who care for them at the rescue.
"That has to be their nightmare," said Gambill.  "Even though they love animals, in the back of their minds it's got to be that primal thing of a tiger stalking you."
The information about the incident will be forwarded to the USDA. They will decide what to do next.
According to Gambill, the last time something like this happened at Exotic Feline Rescue Center was 15 years ago.  An employee was working inside a tiger's cage, when the employee turned their back on the animal. The employee was bitten and dragged, but survived.