This is an archived article and the information in the article may be outdated. Please look at the time stamp on the story to see when it was last updated.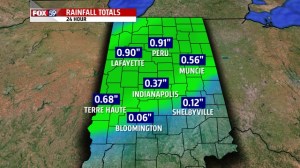 Rain continues across the state this evening but as temperatures fall, we'll start to see a transition back to freezing rain and eventually snow.  But ahead of this change over, we are seeing some decent rainfall totals across the state, especially in northern Indiana.  From Lafayette to Peru, .90″ of rain has already fallen as of 5 PM and with the amount of moisture still out there this evening, getting above the 1″ mark will be possible.   Furthermore, there has been a huge spread in temperatures today, from the 50 degree mark in Bloomington to the mid 30s in our northern spots. Once this boundary passes tonight, we will all be looking at morning temperatures in the mid to low 20s.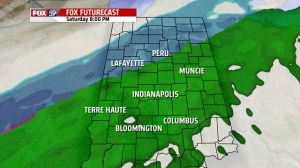 The transition to freezing rain and snow begins in our northwest spots around 8 PM. The image to the left is what Fox Futurecast projects at this time and you can tell it includes towns from Lafayette to Peru.  By this point, those locals will either be seeing freezing rain or just changing over to snowfall.  Regardless, roads will turn slick fast because of that freezing rain that comes down first.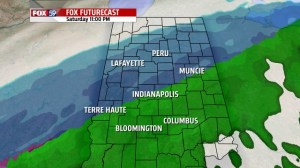 By 11 PM that transition line gets closer to the metro and we too will see this window of freezing rain first and then snowfall.  But as you can see north of the city, a decent area of snow will be on going by this time and some light snow will already be on those northern roads.  This is also the best zone for snowfall accumulation overnight.  It's from I-70 and to the north that 2-3″ of snow is possible, maybe some isolated reports up to 4″ total.  But it's south of the city that 1″ of snow or less is expected tonight.
By 2 AM, that transition line will finally make it to Bloomington, Shelbyville and Richmond.  But after this hour the models show this more prominent snow band starting to weaken and becoming rather brief for our southern and southeastern counties.  That is why your snowfall amounts should come in around 1″ or less overnight.   As for Sunday morning, be ready for slick roads once again.  Whether you get 1″ of snow or 3″ of snow tonight, remember that a thin layer of ice could easily be below that fresh snow.  This will create slick spots on untreated roads, bridges and overpasses.  Be especially careful on country roads if you plan on getting out Sunday morning.
Colder air invades for Sunday and you should expect temperatures to only increase a few degrees throughout the day into the mid 20s. We will see a decrease in clouds throughout the day, becoming partly cloudy by Sunday afternoon.
Monday remains dry as an area of high pressure influences our state.  But if you are travelling south this day into Kentucky, be on alert for snowfall.  A gulf system will be tracking too far to the south to impact Indiana but it will bring snow just south of us and this is where winter storm watches are already in place.
Snowfall chances return to our state on Tuesday night and this is the "big" event that has had everyone talking for the past week!  And continued from Brian and Ron's blogs this week, no, we are not calling for 20-30″ of snow, that was a rumor!   But let's talk realistically about this system.  It's still technically too early to give you an exact snow forecast because even minor changes in the storm path would greatly impact how much snow we see.  What I will tell you is how the models shaped up today.  What I'm seeing is at least 6″ of snow from the I-70 corridor and points to the north.  Today the models really slashed the snowfall numbers in the southern part of our viewing area due to more ice thanks to warm air aloft.  But even if we get around 6″ of snowfall, roads would be greatly impacted again, schools would be delayed or canceled and we'd be digging out our driveways.  But I cannot stress this enough: THIS IS NOT THE OFFICIAL FORECAST.  It's just too early to get a good handle on how much snow each and every town will get out of this latest possible winter storm.  What I do encourage you to do it get prepared early and think about your travel plans for Wednesday.