This is an archived article and the information in the article may be outdated. Please look at the time stamp on the story to see when it was last updated.
Spotty showers have developed in the northern half of the state this afternoon.  Pea sized hail has already been reported in the Lafayette area.  Due to the low freezing level, it's very possible that these showers could produce the same small hail that we saw on Friday.  Showers will move from west to east this afternoon.  An isolated rumble of thunder cannot be ruled out too. These showers will diminish this evening between 7-8 PM.
TONIGHT
Skies turn mostly clear overnight and temperatures will be chilly, in the upper 30s and low 40s. This could lead to some patchy frost here in central Indiana.  The NWS in Wilmington, Ohio has issued a frost advisory for the southeastern part of our state from 3 AM to 10 AM Sunday.   The Indiana counties included are:  Dearborn, Fayette, Franklin, Ohio, Ripley, Switzerland, Union, Wayne.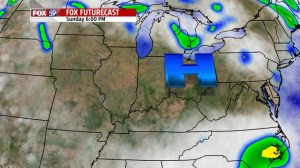 SUNDAY
Skies stay mostly clear on Sunday due to a ridge of high pressure.  Temperatures will be warmer as well on Sunday as they top out in the mid 60s. Winds will also be very light throughout the day as this center of high pressure basically sits on top of the state.  This will make for one of the better days we've seen all week to get out to IMS and take in Pole Day.  Just be sure to bring some layers if you plan on being out at the track Sunday morning as it will be cool. Also, it might be a good day to grab the sunglasses and some sunscreen as we'll only see a few cirrus clouds out there on Sunday.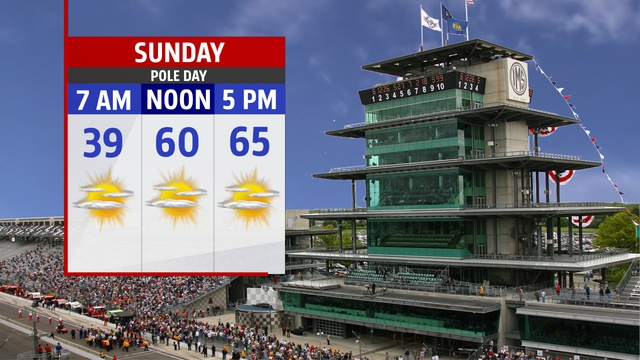 Temperatures continue to warm up and we start the work week.  Highs on Monday should reach 70° with slowly increasing clouds.  The warm front arrives late that day so it will also turn a little breezy.  Temperatures continue to climb on Tuesday as we sit in the warm wedge of our next low pressure system.  Temperatures should top out around 78° on Tuesday with an isolated chance for storms.  Scattered storms will be possible on Wednesday with temperatures climbing into the mid to low 80s.