This is an archived article and the information in the article may be outdated. Please look at the time stamp on the story to see when it was last updated.
Indianapolis is quickly becoming one of the hottest food cities in America.  A destination for true foodies who are interested in everything from fine dining to food trucks.  This column will put the spotlight on one of these local hot spots to help get the word out and share in the love of all things food.
Review by Dustin Heller (@eatindywatchindie on Instagram)
When Prohibition ended in 1933, upscale supper clubs took the country by storm, replacing the Prohibition roadhouses and underground speakeasy clubs that operated illegally while alcohol sales were outlawed.  These supper clubs were the "place to be," designed for patrons to spend the entire evening from happy hour to after dinner entertainment.  The supper club era ended in the 1960s, but a number of retro supper clubs have popped up in big cities over the last number of years.
Unfortunately, Indy wasn't one of those cities–until now. Geraldine's Supper Club & Lounge is a true throwback to a bygone era that plays homage to the greatness of supper clubs.  Located at 1101 English Ave. in beautiful Fletcher Place, Geraldine's is the spot where the Rat Pack would have hung out when passing through Indy back in the day.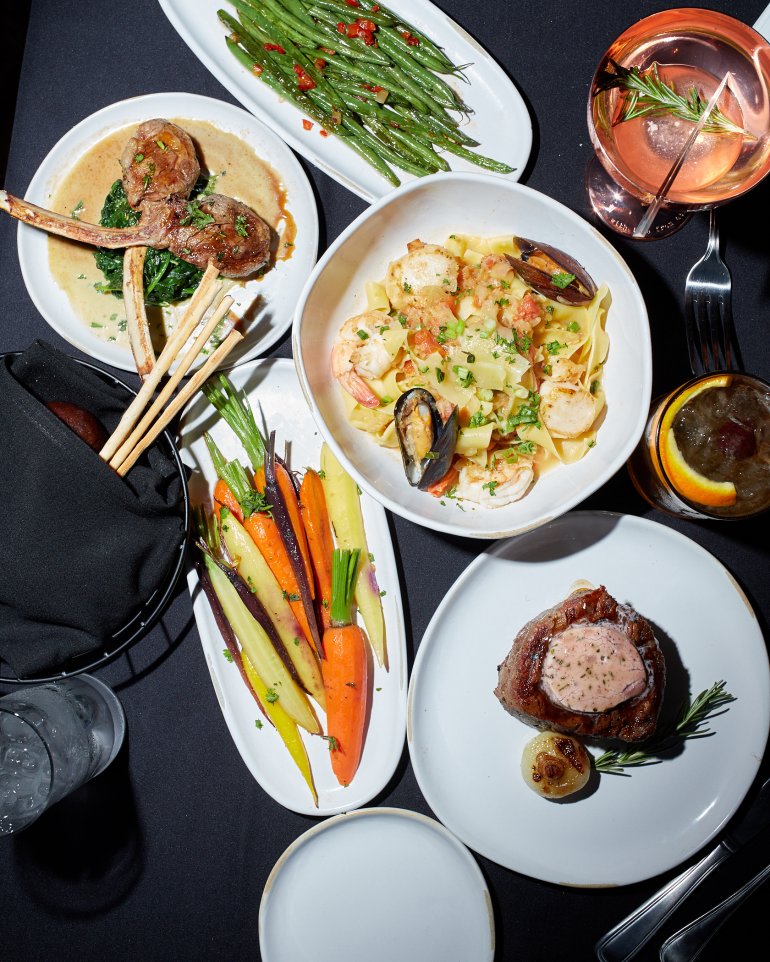 Geraldine's is the brainchild of Fat Dan's Deli owner Dan Jarman, who loved the place so much he decided to name it after his mother.  Residing in a small brick building on the corner of English and Shelby that was once an old Iron Workers Union Bar, the place is oozing with character and charm.  It feels as if you're transported to another era when passing through the front door.
The refurbished hardwood floors and exposed brick walls only add to the mystique.  When there's not live music being played on the grand piano, you can almost guarantee Frank Sinatra will be pouring through the speakers.  The first level boasts an enormous bar that's the perfect spot to have a pre-dinner drink or hang out and enjoy the vibe.  The oversized dining area upstairs is the perfect combination of chic and rustic.
Let's now get into what I'm most excited about at Geraldine's: the food.  Geraldine's serves the highest quality steaks, chops, seafood and poultry along with some pretty amazing appetizers, soups and salads.  The food, prepared fresh in-house, is sourced locally as much as possible.  They even have a "champagne & caviar" section on their menu for special occasions.  In addition, they have some classic items you won't find in many places around the city, such as Chateaubriand and Beef Wellington.
The menu is spectacular! Since Geraldine's has only been open since Oct. 10, I'm sure many of you haven't had the opportunity to check it out.  Perhaps this is where I can be of some assistance. Below are four items from the menu you "can't miss" on your first (or next) visit:
Caviar: Every once in a while it is fun to indulge in the finer things in life, even if that means splurging a little.  Caviar is the perfect example of this, a delicacy that has the power to turn an exceptional meal into something unforgettable.  Really, how many restaurants in Indy even offer caviar as an option?  For those unfamiliar with the dish, it's simply salted roe (eggs) from sturgeon.  Geraldine's offers a nice variety of caviar with unique tastes and flavor profiles. Not only does caviar taste fresh, but it's really fun to eat.  The caviar at Geraldine's is served with crackers, shallots, hard boiled eggs and capers. There are many combinations to try, but I prefer mine straight up.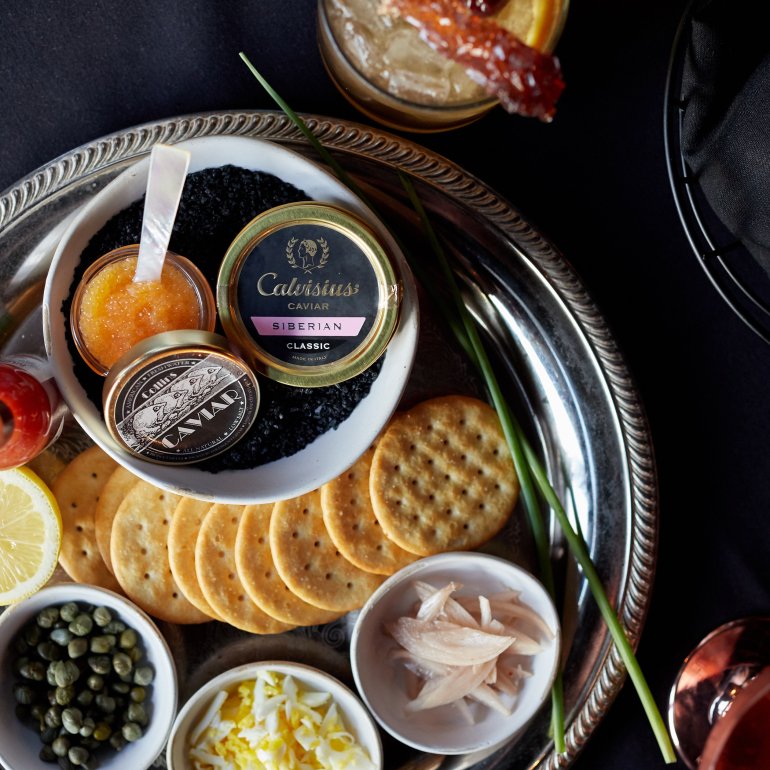 Lamb lollipops: If banks started handing out these instead of regular lollipops, the line would be around the block (ah, the good old days when we actually had to go to the bank…).  You probably weren't expecting me to recommend a lamb chop that you pick up and eat with your hands at such a nice place. That's exactly what I'm recommending and you'll be doing yourself a major disservice if you skip this appetizer.  I am a huge fan of lamb chops, but even I wasn't expecting the burst of flavor from the first bite.  It was as if the clouds opened up and a choir sang, "Hallelujah!"  If lamb isn't your thing, make it your thing. You can thank me later.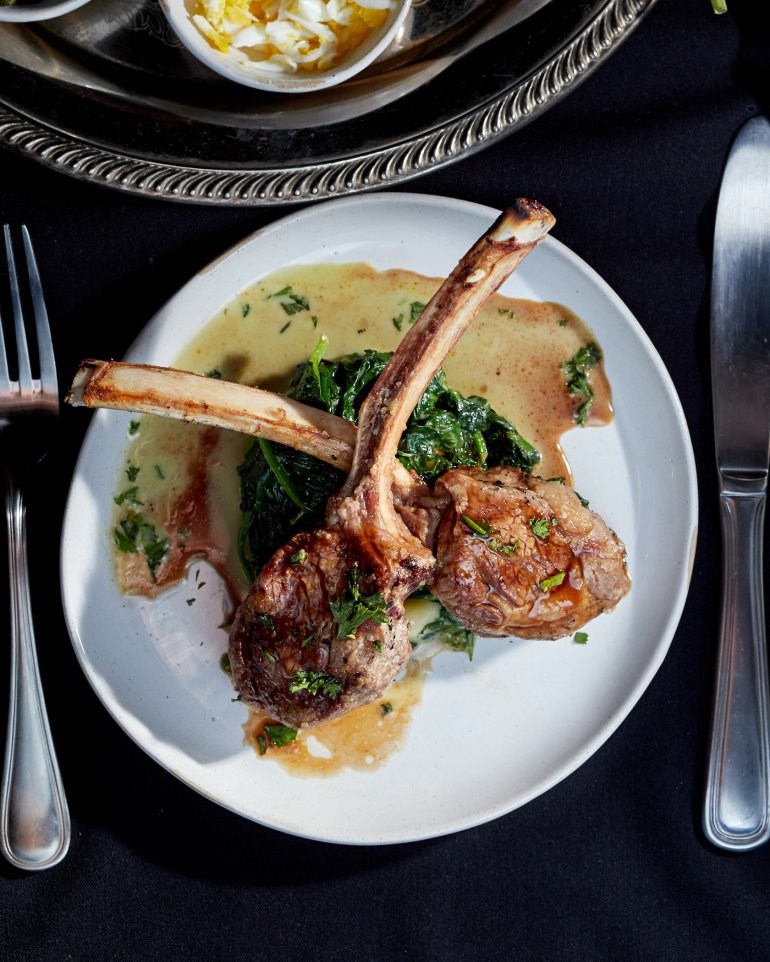 Bread Pudding: The actual name for this dessert should be sticky toffee pull apart bread pudding.  Like the lamb lollipops above, I can't express the shock and awe of my first bite into this delectable dessert.  My friend gave me a heads up and I still wasn't fully prepared.  The taste is out of this world, but the texture is downright perfection as well.  The bread is gooey, the toffee sauce is sticky, the raisins are chewy and the ice cream is, of course, creamy.  I challenge anyone reading this to find me a better bread pudding in the state of Indiana–I'd be happy to judge.  Nevertheless, this dessert is delightful and the perfect end to an amazing meal.
Filet Mignon: I can pretty much guarantee whichever cut of meat you order at Geraldine's will be of the utmost quality, but their filet mignon is otherworldly.  The filet is known for being the most tender cut of all steaks, and this one is no exception.  My filet was so tender, I'm convinced I could have cut it with a plastic spoon.  Even though it's a lean cut of beef, it doesn't sacrifice any flavor. For those wanting a little something extra with their steak, Geraldine's has some pretty great sauces and accompaniments.  I opted for the red wine tarragon (shown below) and was not let down.  Beef: it's what's for dinner.