This is an archived article and the information in the article may be outdated. Please look at the time stamp on the story to see when it was last updated.
Central Indiana saw a warm start to the weekend but thankfully it wasn't too humid. Temperatures topped out in the mid to upper 80s across the state but the real number to pay attention to on Saturday was the dew point.  Skies remain mostly clear to completely clear overnight and this will allow temperatures to fall back into the low 60s.
Sunday will be another warm, dry day with low humidity.  Temperatures should reach the mid to upper 80s across the state.  The dew point should also slowly rise later in the day back into the low 60s.  But on Monday, dew points will be back into the mid 60s so that means the humidity is back!  Here's a look at the expected temperature track on Sunday: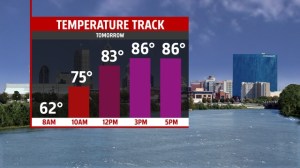 Heat is definitely building for the coming work week.  Wednesday looks the warmest despite a few clouds rolling in that day.  Dry soils will tip us over the edge with this heat wave and this could easily bump us into the mid 90s by mid-week.  This will be near or at the record of 96° on Wednesday.  Rainfall chances look very low for the extended forecast.  A weak front will come in Wednesday late day into Thursday but it may produce little to no rain.  If this front did end up giving us a little bit of rain, that would bring down the Wednesday temperature a little bit but not much.
Here's a look at possible feels like temperatures for the coming work week.  Humidity will be the highest Tuesday/Wednesday which makes the heat index even that much higher:
Monday:   91-93°
Tuesday:   95-98°
Wednesday:   100-104°
Thursday-Saturday:   91-93°