This is an archived article and the information in the article may be outdated. Please look at the time stamp on the story to see when it was last updated.
INDIANAPOLIS, Ind. – Pharmavite LLC announced on Tuesday that they are recalling several Nature Made products due to possible salmonella or staph contamination. The recalled products were distributed nationwide to various major retailers, according to a release by Pharmavite.
Pharmavite issued the voluntary recall out of an "abundance of caution to protect public health."
The following products are included in the recall: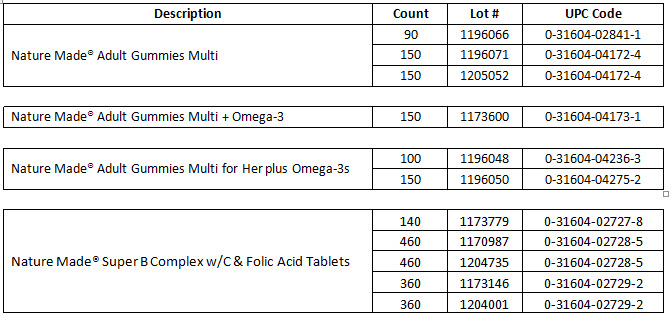 Additionally, the following two products are being recalled, not because of salmonella or staph concerns, but for "other reasons," according to Pharmavite. The nature of the recall is undisclosed. FOX59 has sent a message to Nature Made asking for more specific information as to why the products are being recalled.
The lot number can be found on the back panel next to the expiration date.
If you purchased a product included in the recall, you can return it to the retailer for a full refund.
If you have any question, contact the company during normal business hours, Monday through Friday, 7 a.m. to 5 p.m. PST at 1-800-276-2878.