This is an archived article and the information in the article may be outdated. Please look at the time stamp on the story to see when it was last updated.
INDIANAPOLIS, Ind. – Presumptive Republican presidential nominee Donald Trump will meet with Indiana Governor Mike Pence this weekend.
Sources say Pence is being vetted as Trump's potential vice presidential running mate.
Pence's Deputy Campaign Manager Marc Lotter released the following statement: "Governor Pence has accepted an invitation to spend a little time with Mr. Trump this weekend. This meeting is very consistent with meetings Mr. Trump is holding with many key party leaders."
FOX59 asked Pence about being Trump's VP pick, and he said he hasn't spoken to the presumptive nominee since the Indiana primary.
"I'll cut to the chase. I haven't spoken to Donald Trump since before the primary. And I certainly never spoke to him about that topic. I think all the attention on us is more of a reflection of the progress in this state," said Pence.
The Indiana Democratic Party released the following statement in regards to Pence's visit with Trump:
"Mike Pence seems to be more concerned about his own political career than the job Hoosiers elected him to do. With plummeting approval ratings, Gov. Pence now wants to hit the ejection button so he can avoid campaigning on his failed tenure as governor. This includes RFRA, one of the worst abortion laws passed into law, and a lagging state economy with many Hoosiers out of work. Any form of legislation Mike Pence has passed as governor was with one eye on the political agenda of Washington, D.C. insiders. So once again, Mike Pence is only out for himself – not for Hoosiers."
If Pence is picked as Trump's running mate, he can no longer run for governor. According to state law, a person's name can only appear once on a ballot.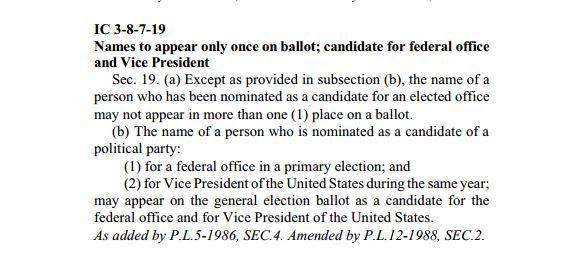 According to Fox News, Trump is also expected to meet with several other potential VP candidates in the coming days leading up to the Republican National Convention.
The RNC will run from July 18 to July 21 in Cleveland.