This is an archived article and the information in the article may be outdated. Please look at the time stamp on the story to see when it was last updated.
DELPHI, Ind. – Family members of one of the teenage girls murdered in Carroll County are expressing their gratitude for the officers investigating the case.
Diane and Eric, the grandparents of Abby Williams, left an emotional note at the headquarters of the Delphi investigation Tuesday.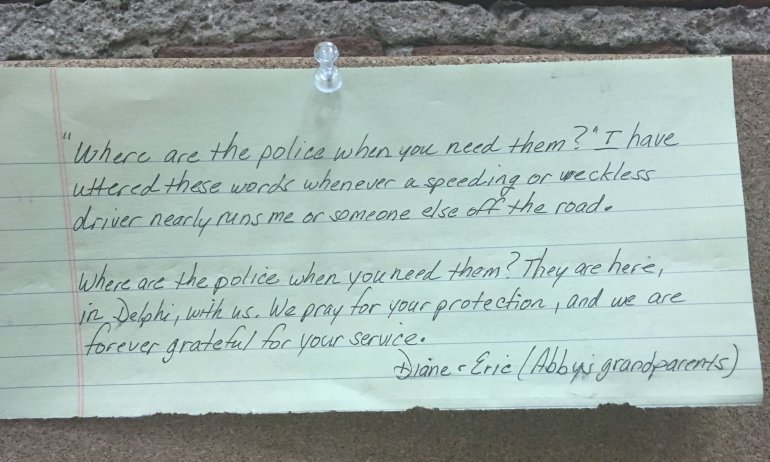 The bodies of Abby and Liberty German were found Feb. 14. Ever since then, law enforcement officers have been investigating.
Investigators recently announced they've received around 10,000 tips in connection with the homicides.
Some of those tips have led to the execution of dozens of search warrants to potential suspects. Police have even made arrests based off those tips, but they say none of the people arrested are involved in the murders.
As police make these arrests, they want to ensure the public that no one has been arrested for murder and to not accuse people of being the murder suspect. They also want to stress that they have not caught the main suspect in the photo taken by one of the girls.
The reward for information leading to the arrest of a person or people responsible for the murders reached $200,000 after Pat McAfee and Jim Irsay made donations Tuesday.
If you recognize the main suspect or have any information regarding this case, you're asked to call the tip line 844-459-5786 or email abbyandlibbytip@cacoshrf.com.