This is an archived article and the information in the article may be outdated. Please look at the time stamp on the story to see when it was last updated.
FISHERS, Ind. (Nov. 6, 2014) — Court documents released Thursday paint a dark and disturbing picture in the murder case against 17-year-old Maxwell Winkler.
He's been charged in the November 1 death of 73-year-old Henry Kim in Windermere Park. Autopsy results show that Kim was shot three times and his throat was cut.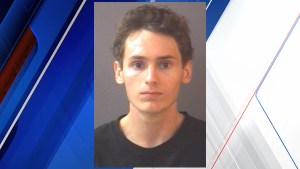 According to court documents, at 7:16 p.m. Saturday police received a call from a man who was walking his dog near Windermere Park when he claims to have heard three or four shots and saw flashes of orange light. The man said he also saw a pair of white shoes across the pond.
The man told police he traveled along the walking path in Windermere Park until he came across Kim, who would not respond to the man's offers of assistance. He called 911 immediately. Police arrived on the scene minutes later.
Police say Kim was dead when they arrived. He had a large cut to his throat and three .22 caliber shell casings were found by the body.
According to the court documents, a man and his son were playing tennis in Windermere Park Saturday evening. When they came out to the parking lot, the tire on their minivan was flat. They told police they walked home to get an air compressor and drove another vehicle back to the park.
As they were walking home, they told police they saw an "unusual male" sitting on a park bench. They said he had a four foot stick in his hand and was jabbing it into the ground. He was wearing a dark hoodie and wouldn't look up at them. A mountain bike was leaning against the bench.
Upon returning to the park, the father and son also saw that the windows on both sides of their van were shattered. Two .22 caliber casings were found beside the van, and later a bullet was recovered from inside of the van.
Court documents also describe reports given to police about suspicious encounters in the days prior to and following Kim's death.
A woman who lives near the area of Talon Trace and Hawthorne Ridge, about two to three miles from Windermere Park, contacted police and told them she was out trick or treating with her two sisters and five children on Halloween, walking along a maintenance path, when they saw a man with brown hair and facial stubble by himself on the path. She said a bike was parked in a wooded area nearby. The man, she says, began to follow their group along the trail.
About ten minutes before this, the woman's son says he was walking with friends along the trail and noticed a bike and a large blue bag against a tree while walking along the path. They say a man appeared from behind them and grabbed the bag. The children were startled and took off running.
The boy says the man passed the group on a mountain bike, did a u-turn and came back towards them. He then, according to court documents, slowed down and said, "Hey, what are you doing?" before passing them again and continuing down the trail on his bike.
Another boy reported being shoved from behind as he walked with a group of friends in the same area Halloween night. As he turned around, he says a man wearing a hoodie was walking away from them. It appeared, he says, there was something inside of the hood. That's when he says the man pulled a knife from hood, dropped it and continued walking. Police were called and recovered the knife, which was described as a kitchen knife.
Along 106th Street and Hawthorne Ridge, another woman told police she heard three gunshots coming from a wooded area about two hours before Kim was killed.
A couple contacted police the day after Kim's death to tell police they saw a suspicious man in the nature preserve near 106th Street and Hawthorne Ridge. They described him as a slender man wearing glasses with a bag and a mountain bike.
As police searched the area, they found .22 caliber bullet casings and an unfired round. They had similar markings to the casings found at the scene of Kim's death. A water bottle and sticks bound together by duct tape were also found.
Later, as police were in the area, they say a man on a mountain bike came in their direction on the trail. According to court documents, when he saw police he turned around but was quickly detained. The man was identified as Maxwell Hunt Winkler, a student at Hamilton Southeastern High School.
Police reportedly found two folding knives on Winkler, one with a substance on the edge that appeared to be blood. Without being asked any questions, Winkler reportedly told police, "I didn't kill anyone." Police say they also took into possession a fanny pack and a dark mountain bike.
Earlier in the day, working on a tip about Maxwell Winkler, police came to Winkler's mother's house on Chaswick Drive. The recycling bin was reportedly in the street, and when police looked inside they found a towel with what appeared to be dried blood on it. Two dark gloves were also found in the trash.
After taking Winkler into custody in the nature preserve, police returned to the home on Chaswick Lane where Winkler lives with his mother and brother. According to court documents, Winkler's mother told police there were firearms inside the home, including a .22 caliber. When police went inside the home to retrieve medications, per Winkler's mother's request, a detective reported seeing weapons in plain view.
Court documents also indicate that a teacher from Hamilton Southeastern told police Winkler was growing a beard during the week leading up to Halloween, but on Monday appeared to be clean shaven with a haircut. There was second-hand information relayed in the court documents that Winkler had come home on Saturday evening, shaved his beard and washed his clothes.
Police also mentioned in court proceedings that a school resource officer had passed along information that two years prior, "Maxwell Winkler wrote a letter called My Bucket List and he likes to plan and talk about killing and mass destruction and weapons of mass destruction."
The Fishers Police Department then obtained search warrants to search the homes of Maxwell Winkler's mother and father. Both live in Fishers.
The search warrant at Winkler's mother's home, according to court documents, produced a box of .22 caliber ammunition consistent with the casings found at the scene of Kim's death and the van with shattered windows.
Police also allegedly found a razor with the remnants of a beard in Winkler's bathroom trashcan.
Allegedly, police also found papers inside of a wallet in Winkler's bedroom. Some of the papers included lists. One was titled "Supplies and Preparation" and was broken down into sections – after, before and during. It listed items like backpack with second set of clothes, a jacket, a second pair of gloves, two trashbags, two towels, two water bottles, kill tools and two Gatorades.
Another portion was titled "Steps." It talked about preparing the site and tools for clean-up, selecting prey, waiting and acting inconspicuous until prey passes and then making a surprise attack by using a bike near the site.
There were phases spelled out in detail. The papers allegedly talked about riding a bike past the prey, drifting into place and then striking. The handwritten notes also include plans like wearing a mask, knocking out the prey, "double tapping" them (shooting twice), dragging them back to a kill site and making sure they don't wake up. One phase simply says, "Enjoy kill." It also talks about collecting a trophy, getting back to a safe site afterwards to clean-up, burn evidence, change clothes, pack-up and "get the hell outa Dodge."
Plans for trails in Hamilton Proper and Windermere Park were also directly mentioned, along with a possible date – Halloween.
Two sets of flowers in Fishers park today as graphic details emerge in Henry Kim's murder at hands of teen @FOX59 pic.twitter.com/BIKbAFB6CW

— Kendall Downing (@kendall_downing) November 6, 2014
Previous Stories: