This is an archived article and the information in the article may be outdated. Please look at the time stamp on the story to see when it was last updated.
HUMIDITY DROPS
A refreshing change in the air Thursday!  Northwest winds drive drier, more comfortable air into central Indiana.  The humidity has tanked and the tropical air is pushed out for now.  The afternoon temperatures broke the 80 degree mark for the first time in 9 days but the drop in humidity made it feel great.  Under mainly clear skies overnight this dry air will translate to cool temperatures.  Away from the city, temperatures are likely to drop into the middle 50's.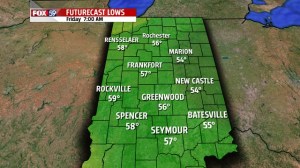 NORTHWEST FLOW
Steering upper air winds from the northwest are keeping the heat away and will deliver another system into central Friday afternoon and night.  Clouds will stream into the state and eventually carry showers in during the day.  There is still some debate as to how much rain will make it here.  The trend off machine generated rainfall forecasts is drier with consecutive runs.  We need the rain and will monitor rainfall forecasts through the evening with an updated expected tonight.  Currently the average off 4 models places .36″ of rain down in the city but a wide-spread exists from nothing to .53″.  An update on rainfall numbers later tonight.
30 DAY OUTLOOK
The "cooler than normal" trend shows no sign of let up out 2.5 weeks.  It's a clear signal that the "Northwestern flow" pattern will not ease through mid month.  Here is the latest high temperature departure from normal break out for the next 16 days
DAYS 1-5: -8°
DAYS 6-10: -10°
DAYS 11-16: -17°
AUGUST TEMPERATURE FORECAST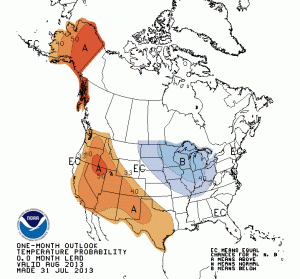 AUGUST RAINFALL FORECAST