This is an archived article and the information in the article may be outdated. Please look at the time stamp on the story to see when it was last updated.
INDIANAPOLIS, Ind. – Police are looking for a green Jeep Liberty following a deadly hit-and-run crash from earlier this week.
On Monday, 22-year-old Immanuela Irving was walking along the street when she stepped into the path of an IndyGo bus. The bus clipped her, sending her into the other lane where a second vehicle ran over her.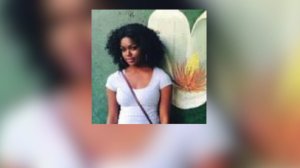 It happened around 7 p.m. at 34th and Dequincy streets, according to the Indianapolis Metropolitan Police Department.
IMPD said the second vehicle left the scene. They're looking for a green Jeep Liberty from model years 2002-2007. They didn't have any information about the vehicle's license plate.
Anyone with information should call Crime Stoppers of Central Indiana at (317) 262-TIPS (8477) or the IMPD Crash Investigation office at (317) 327-6549.