This is an archived article and the information in the article may be outdated. Please look at the time stamp on the story to see when it was last updated.
UPDATE (April 29, 2019) — Prosecutors dismissed the charges against Heath Kimberlin, saying there were evidence problems. They are pursuing the case against the other defendants.
GREENFIELD, Ind.– Two teenage parents now face charges in adult court in connection with severe injuries to their then 6-week-old baby. According to investigators, the baby's injuries are consistent with shaken baby syndrome.
Brandon Kimberlin, who turned 17 in December , and Caitlin Mann, who just turned 18 in November, face two counts of neglect of a dependent resulting in serious bodily injury and one count of neglect of a dependent resulting in bodily injury. Kimberlin faces an additional charge of aggravated battery.
"Investigators found there's a window of time, about four and a half hours, where Mr. Kimberlin would have been the sole caregiver of the child and that corresponds roughly to when we believe the most serious of injuries would have occurred," Hancock County Prosecutor Brent Eaton said.
In November, medics were called to a Greenfield home when the baby's grandmother reported he was coughing up blood and not breathing well. The family refused to let medics take the baby to the hospital for further treatment, court documents show.
According to court documents, a first responder told investigators they saw nothing to indicate the baby needed to be transported and medics advised they follow up with a family doctor.
Greenfield Fire Chief James Roberts III says when they respond to calls they can't take a patient to the hospital if they or their caregiver doesn't want them to go.
"If there's something that's an obvious concern that we see right off law enforcement can detain an individual and we can then transport them at that point in time," Roberts said.
The next day, the family rushed the baby to the hospital.
Doctors said the baby's skin was cool, and he was blue and gray. He was flown by Life Line to Peyton Manning Hospital, where doctors found the child had numerous injuries including broken ribs, brain injuries and injuries to his neck and spine.
At their home, police found cigarettes and blood on towels near the crib.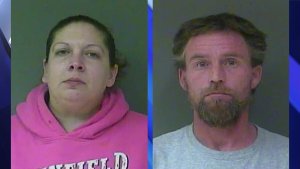 Police arrested the teen parents, as well as the grandparents. Heath Kimberlin, 41, faces three felony counts of neglect of a dependent resulting in serious bodily injury. Pearl Holland, 37, is  facing two counts of neglect of a dependent.
"It's a call you hope you never get, it really is you know," Eaton said. "You know that said we want to look at each case and be as fair as we possibly can and to rely upon the evidence."
Police said this case has been emotionally challenging and it could be years before it's known if the baby will have any permanent neurological injuries. The baby is out of the hospital. The baby was placed in custody of the Department of Child Services.