This is an archived article and the information in the article may be outdated. Please look at the time stamp on the story to see when it was last updated.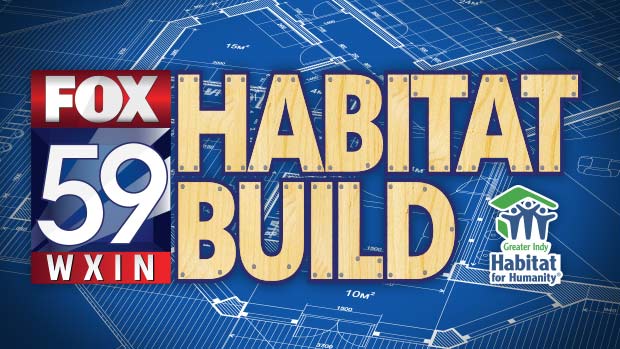 The Sixth Annual FOX59 Habitat Build
At FOX59, we are committed to being more than just a television station. We want to do tangible good for the residents of Central Indiana. Our FOX59 Habitat Build is one of our multiple community-centered campaigns.
2015 marks our SIXTH straight year partnering with Habitat for Humanity of Greater Indianapolis in order to build a home for a family in need.
Habitat for Humanity offers home ownership opportunities to low-income individuals and families who are unable to obtain conventional home financing. Thanks to donations of land, material, labor, resources, and volunteers, the cost of building the home is kept low so the mortgage that they are asked to pay is also low. Before taking ownership, Habitat families attend classes to learn budgeting and finances.
We  conduct a Panel Build day at our station each year. At this event, our station rallies alongside other Habitat for Humanity volunteers to build the framework for the home. It's a morning long endeavor that we broadcast throughout the morning news.
This year, we will be following the panels to the Indiana State Fair – where construction will continue. Make sure to visit the build area and tweet using #followthepanels!
So make sure to join us – Friday, July 31 – all morning long on FOX59 Morning News!
NOTE: Habitat is looking for qualified applicants for the homeownership program, and those interested can visit indyhabitat.org, call the homeownership hotline at 317.777.6080, or attend an info session the first Thursday of every month at the Habitat office at 6 p.m.
Thank you to all our sponsors!