This is an archived article and the information in the article may be outdated. Please look at the time stamp on the story to see when it was last updated.
HAMILTON COUNTY, Ind. – Hamilton Southeastern Schools will retrain its cafeteria employees after receiving complaints about a recent school lunch some parents called appalling.
Lauren Iversen shared a photo on Facebook taken by another HSE parent on Wednesday, which shows what her 5-year-old daughter's school lunch looked like. It was supposed to be a special holiday meal, but Iversen said the lunch consisted of a single piece of broccoli, mushy strawberries that looked nothing like the picture on the menu sent home, a piece of turkey or ham, potatoes, and a dinner roll.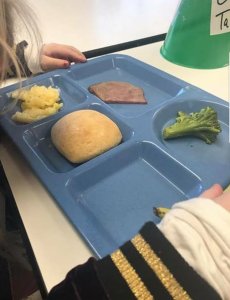 "Definitely the serving size of what she was given was appalling," said Iversen. "The bread being the biggest thing on her plate is completely unacceptable to me."
Other parents agreed when they saw Iversen's post. One person commented "Looks awful!!!" Another commented "Gross."
FOX59 sent the photos to Hamilton Southeastern School officials and they agreed.
A spokeswoman for the district sent us this statement:
The meal that was served yesterday at Cumberland Road Elementary was unacceptable and does not meet the standards of Hamilton Southeastern Schools. Food Services works hard to provide fresh, healthy and balanced meals to all students. Every meal that is served is planned to meet DOE/USDA requirements. Students should receive full portions of all food items and those items should be of the highest quality. What occurred yesterday was an isolated incident, and kitchen staff at CRE are being retrained to ensure this never happens again.
In addition, CRE students will receive a proper holiday meal next week, which is meant to be a special lunch for all students.
Iversen is glad to see HSE responded and took action. She is a teacher herself at a different school district, so she knows school lunches aren't going to be gourmet meals. But she said she pays about $2.50 per meal at HSE and way too much in taxes to have her child come home hungry.
"It's supposedly one of the best cities to live in and this is what the kids in Fishers are being served," she said. "I'm just more disappointed than anything."