This is an archived article and the information in the article may be outdated. Please look at the time stamp on the story to see when it was last updated.
Thousands of people will fill the city streets of downtown Indianapolis on Saturday morning, October 26th, for Making Strides Against Breast Cancer.  Fox 59 is proud to be the television sponsor for this event and we would love for you to join us for the event.  Here's everything you need to know about registering and the actual event.  Also, at the very bottom of the page you will find links to our staff members fundraising pages if you'd like to make a donation!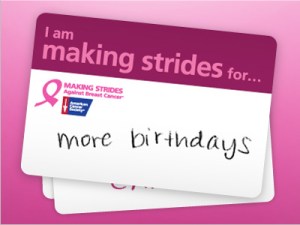 WHAT: Making Strides Against Breast Cancer 5K Walk
WHERE: Celebration Plaza at White River State Park (801 W. Washington Street, Indianapolis, IN)
WHEN: Saturday, October 26th at 9 AM
REGISTRATION:  You can register for the event NOW online and skip the lines the day of the event.  To register online and start a fundraising page, head HERE.
You can also register at the park as early as 7:30 AM the day of the race.   A zumba warm up is offered before the walk to get people excited and moving!  It will start at 8:20 AM from the main stage.  After that, a short program will begin at 8:30 AM from the main stage.  And at 9 AM sharp, a countdown will begin and the mass of pink will start walking!  Here's a look at the route:
For those of you worried out where to park, here's a helpful map which includes several different parking options and parking rates: PARKING.
Several members of the Fox 59 Team will be there on Saturday morning to join in on the walk.  If you can't make it to the walk, but would like to make a donation, you can still help out.  Below is a list of each persons fundraising page.  All donations made through the ACS website are secure and safe.
Bob Donaldson: Bob's Fundraising Page
Ann Kiel: Ann's Fundraising Page
Jennifer Ketchmark: Jen's Fundraising Page
Amanda Rakes: Amanda's Fundraising Page