This is an archived article and the information in the article may be outdated. Please look at the time stamp on the story to see when it was last updated.
By Tanae Howard
INDIANAPOLIS, Ind. (Oct. 10, 2014)-- Catchy billboards showing several pairs of underwear and a woman showing her undergarments have popped up in Indianapolis.
The images are aimed at bringing awareness to colonoscopy screenings. It's an initiative being put on by the Colon Cancer Coalition with the Get Your Rear in Gear 5k run and walk.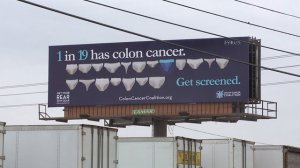 It's the fifth year for the event in Indianapolis. The group wants to bring awareness to a disease that is highly preventable, but its the number two cancer killer in the country. Most people don't get the screening because they're afraid of the uncomfortable process.
"It's one day. You can do anything for one day. It's like doing a workout. You can do anything for a minute. It helps you to be around for your family, your kids or whoever it is you're trying to be there for. And that's my message its one day, go and help yourself," said Colon and Rectal Surgeon, Dr. Shekar Narayanan.
The walk takes place Saturday, October 11 at the Dr. James A. Dillon Park in Noblesville. Registration and Kids' Corner opens at 7 a.m and the walk kick off at 9 a.m.
This is the nation's largest colon cancer awareness event with more than 300 people expected to participate.