This is an archived article and the information in the article may be outdated. Please look at the time stamp on the story to see when it was last updated.
INDIANAPOLIS, Ind. – The initial hearing for the man accused of killing a Southport police officer has been rescheduled for Thursday.
Jason Brown, 28, had an initial hearing scheduled at 1 p.m. Tuesday, but that hearing was pushed back, according to the Marion County Sheriff's Office.  The new hearing date is Thursday, Aug. 3, at 1 p.m.
Brown has not yet been formally charged in the death of Lt. Aaron Allan, who was shot on Thursday, July 27.
Allan and Homecroft Police Department Major CT Bowman were sent to South Madison Avenue and Maynard Drive after a 2004 BMW flipped during a crash.
Brown had picked up a friend and was headed to a gas station when the car picked up speed and crashed, court documents said.
Brown was the driver, police said, and was still in his vehicle, hanging upside down because of his seat belt. His passenger managed to get out and was kneeling next to the driver's side door when officers arrived.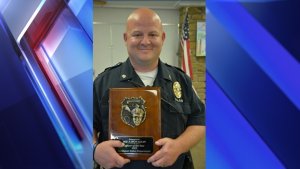 According to court documents, Brown was wedged inside the vehicle and "hysterical." Allan tried to calm him down and told him help was on the way, according to Bowman's account of the incident.
A witness said Brown reached for something behind his back and pulled out a pistol; Bowman reported hearing about a dozen gunshots initially. After a pause, he heard two or three additional gunshots.
Allan was hit multiple times; he was taken to Eskenazi Hospital, where he later died from his injuries. According to the coroner's office, Allan was shot 14 times, including three times in the back.
A uniformed officer and an off-duty deputy returned fire at Brown, who was arrested on a preliminary charge of murder. Friends said he was shot in the face. He is being held without bond.
BELOW: Video from a previous version of this story before Brown's hearing was pushed back