This is an archived article and the information in the article may be outdated. Please look at the time stamp on the story to see when it was last updated.
Good morning!  Central Indiana saw another mild night with temperatures bottoming out in the mid 60s here in the city.  Outside of the metro, temperatures dropped closer to the 60 degree mark.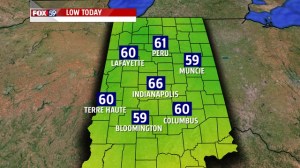 For today, you'll notice that it's a bit more humid outside compared to Monday.  Skies will go from mostly sunny this morning to partly cloudy this afternoon. These clouds are solely driven by daytime heating.  Winds will be from the southeast today and this will help keep temperatures warm, topping out near 87° and dew points higher as well.  Dew points have already risen to the mid to 60s this morning and you can feel it!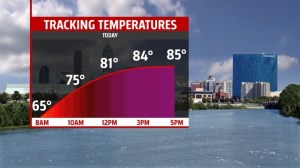 One more note for today's forecast, be prepared to sneeze if ragweed is your trigger!  Ragweed and nettle pollen remain high today.  What we need is rainfall to help bring down this number. But unfortunately when looking at this week, no one day brings in a guaranteed chance for precipitation in Central Indiana.