This is an archived article and the information in the article may be outdated. Please look at the time stamp on the story to see when it was last updated.
Despite the amount of cloud cover on Sunday afternoon, Central Indiana still managed to climb into the mid to upper 80s.  But with dew points still on the high side, it felt sticking and more like the upper 80s and low 90s.  This heat is only going to build in the days ahead, so get ready to sizzle!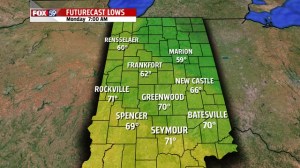 Temperatures fall into the mid 60s overnight with the city closer to 68°F to start Monday morning.  Skies will be partly cloudy with a light wind coming in from the East at 5 to 10 mph.   Anyone that saw an isolated shower on Sunday afternoon or evening will have the potential to see fog early Monday morning as well.
Clouds will decrease Monday afternoon to reveal mostly clear conditions.  But temperatures will end up warmer, near the 90 degree mark.  Adding in the high dew point, it will probably feel closer to the mid 90s Monday afternoon.   Ragweed and nettle pollen levels also remain high as we start off the work week, so allergy sufferers will have to worry about this as well.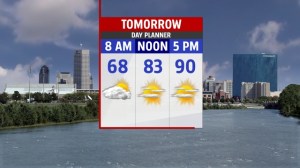 Heat builds again on Tuesday and we should reach the mid 90s with mostly sunny skies.  As always, dew points will remain high during this time as well so expect feels like temperatures to be more like the upper 90s or right around 100°F.  A few more clouds will move in on Wednesday in advance of the cold front but despite the increase in clouds, it's still going to be hot.  Temperatures should end up around 93°F and feels like temperatures will be around 97°F.
But this thing to remember is that a cold front is coming and it will bring an end to this latest warmer/hot spell of temperatures.  We are getting to a time of year when 80° is normal for an afternoon high temperature, not 90°!  Temperatures will drop to finish off the work week and we should only see afternoon highs in the mid to upper 70s for several days.