This is an archived article and the information in the article may be outdated. Please look at the time stamp on the story to see when it was last updated.
Central Indiana started the morning with the first wave of snowfall and rainfall from this system.  We had reports of just a dusting of snow to up to 2″ or more in some spots.  As temperatures warmed this afternoon, many people saw this snow melt.  But there is definitely more snow on the way and it's headed in this afternoon from Illinois.  The leading edge of this could bring in a rain/snow mix but this will quickly to turn to all snow, especially north of I-70. 
Winter storm warnings are currently active across our entire viewing area.  This will continue until noon Monday.
Here's a look at the timeline:
6 PM:  Snowfall covers much of Central Indiana.  Roads already becoming slick in our western counties.  Snowfall is lowering visibilities as well.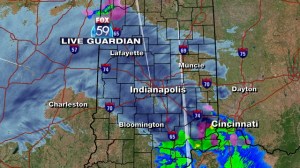 9 PM: Snow easily covers the metro and a very good portion of our viewing area.  Thundersnow may be heard in some spots.  Winds will also be higher producing a blowing snow. This will reduce visibility.  Roads become slick, especially to the west.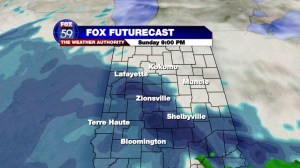 Midnight:  Snowfall reaches its highest intensity across the state.  Snowfall rates will be at or above 1″ per hour.  Visibility will be low, roads will be snow-covered and winds will create some blowing and drifting.  If you have to travel between 12 AM to 3 AM, please have an emergency kit in your car and a fully charged cell phone handy.  Thundersnow will continue in spots across Central Indiana.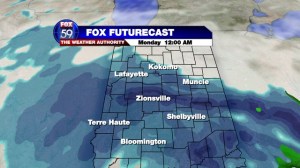 3 AM MONDAY: Snowfall goes from intense to more moderate.  Snowfall will continue to accumulate.  Roads will be snow covered across all of Central Indiana.  Winds will also remain breezy, dropping visibility and creating blowing and drifting.
6-9 AM MONDAY: Snow showers continue but not as widespread across Central Indiana.  The majority of the accumulating snow will have fallen but minor accumulations are still possible.