This is an archived article and the information in the article may be outdated. Please look at the time stamp on the story to see when it was last updated.
INDIANAPOLIS, Ind. – Ever wondered why Indianapolis 500 winners drink milk?
The tradition dates all the way back to 1936, according to the Indianapolis Motor Speedway. That's when Louis Meyer was photographed drinking milk in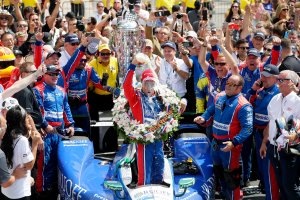 Victory Lane after winning his third Indy 500.
IMS says it was out of habit. Meyer regularly drank buttermilk to refresh himself on a hot day.
An executive with what was then the Milk Foundation was elated when he saw the photo. So, he vowed to make sure all Indy 500 winners would take a swig of milk at the finish line.
There was a period between 1947 and 1955 when milk was apparently no longer offered. But the practice revved back up in 1956 and has been a tradition of the "Greatest Spectacle in Racing" ever since.
An Indiana dairy farmer traditionally hands the bottle of milk to the winning driver. This year, Kim Minich will do the honor. Andrew Kuehnert will award bottles of milk to the winning car owner and chief mechanic. FOX59 spoke with them Thursday morning.