This is an archived article and the information in the article may be outdated. Please look at the time stamp on the story to see when it was last updated.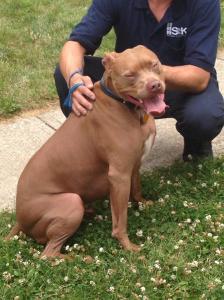 INDIANAPOLIS, Ind. (July 16, 2014)– A dog named Ace is being called a hero after firefighters said he alerted a boy to a fire and enabled him to escape.
The fire happened Wednesday afternoon in the 6400 block of Perry Pines Court on the south side.
Nick Lamb, a deaf 13-year-old boy, was asleep when the house caught on fire. The 2-year-old pit bull licked the boy's face to alert him to the fire. Both managed to escape.
The family's cat, Pixie, was located by firefighters inside the home. Pixie was taken to the vet and appeared to be fine.
The home was badly damaged by the fire, but no injuries were reported.
Eric Levy will have more on this story on Fox59 News at 10 and NewsPoint at 11.
This slideshow requires JavaScript.