This is an archived article and the information in the article may be outdated. Please look at the time stamp on the story to see when it was last updated.
SANTA CLAUS (July 25, 2014) – Get ready for Thunderbird.
Holiday World's big announcement Thursday was indeed centered around a new roller coaster. Thunderbird will be the park's first major steel roller coaster.
The wing coaster will go from zero to 60 mph in 3.5 seconds. Riders will experience multiple inversions, including a Zero-g roll, barrel roll, 14-story Immelmann loop and a loop that goes 125 feet in the air.
"A wing coaster creates a feeling of incredible freedom – you ride beside the coaster track with nothing above or below you," said Matt Eckert, president of Holiway World. "Thunderbird is the first launched wing coaster in the nation – we can't wait to ride it!"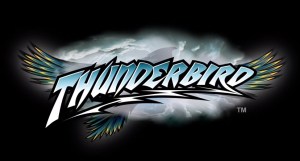 Riders should expect to soar and loop high in the air and then come back down to the ground. The coaster will feature "near misses" such as keyholes, themed elements, other rides and trees, Eckert said.
The ride will cost $22 million, a price that's more than twice the amount of any other single ride in the park's 68-year history. The firm Bolliger & Mabillard designed the ride.
Thunderbird will go in the park's Thanksgiving section. Construction has already started, and anyone interested can watch the live ConstructionCam to see progress on the ride, which is slated to open next spring.