This is an archived article and the information in the article may be outdated. Please look at the time stamp on the story to see when it was last updated.
SOUTH BEND, Ind. (July 1, 2015) — All along there has been one woman at the center of the Richmond Hill tragedy that literally rocked Indianapolis, cost two people their lives and forever changed hundreds more.
Live blog: Go inside the courtroom with FOX59. 
"Does the State have a witness?" asked the judge.
"We do," said the Prosecution. "Monserrate Shirley."
With that pronouncement Day 15 of the Mark Leonard double murder trial began in a South Bend courtroom as ex-lovers prepared to square off in the largest, most complex criminal case in Indianapolis history.
Leonard is accused of plotting to fill a home in the Richmond Hill community full of natural gas in the fall of 2012, touching off a huge explosion sparked by a metal canister in a microwave oven set with a delayed timer.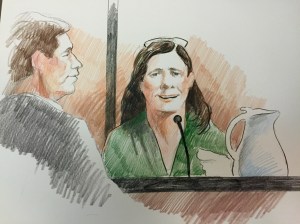 Shirley's home was obliterated, the houses of the neighbors next door were, too. 80 residences were damaged or destroyed, losses totalled more than $4 million and Jennifer and Dion Longworth lost their lives.
At 9:21 a.m., moments after jurors were seated in the basement courtroom of St. Joseph Superior Judge John Marnocha, the woman at the center of the fatal blast took the witness stand.
Shirley was led into the courtroom in shackles and a black jail jumpsuit, her cuffs removed in full view of the jury, as Deputy Prosecutor Mark Hollingsworth confirmed she once faced the same charges as Leonard but saw those counts reduced in exchange for her cooperation.
The witness's voice was clear, firm and accented as Shirley admitted she could be facing up to 50 years in prison for pleading guilty to two counts of Conspiracy to Commit Arson.
Shirley testified she met Leonard at a southside bar on November 12, 2011, just shy of one year to the day her house exploded.
Leonard came home with her that night, said Shirley, and he never left.
Within weeks not only was Leonard living at 8349 Fieldfare Way, he was also telling Shirley to boost her home insurance coverage to $300,000.
"I just did it," Shirley told the jurors when asked why she agreed with Leonard's suggestion.
Leonard promised he would soon be fixing up her home to justify the higher insurance coverage but never came through on those commitments save for the purchase of two televison sets and some pictures.
"I'll get back to those TVs later," said Hollingsworth, referring to household items investigators could not find in the explosion debris.
Shirley testified that before Christmas, Leonard had convinced her to sell her 2006 GMC Envoy to rent a Cadillac STS  because, "he needs to be driving a better car than he is driving."
Leonard said a dealership would offer her $10,000 for the SUV.
Shirley eventually drove a 2000 Ford Taurus valued at $750.
As Hollinsworth displayed real estate photographs of Shirley's house, the witness reached for tissues as she described, in a shaky voice, her neighbors the Longworths.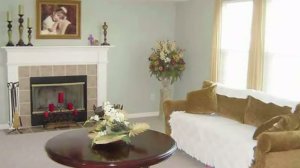 Shirley identified a photograph of an oil painting of her daughter which was on display above the gas fireplace in the living room and admitted that portrait was missing the night her house blew up.
Investigators theorize that painting was removed so as not to be destroyed by the blast.
Shirley testified that she never operated her gas fireplace though Leonard had during the year he lived with her.
As Hollingsworth asked if there was ever a discussion of setting fire to her house, and Shirley answered there was, Judge Marnocha called a mid-morning recess of testimony.
Shirley stared hard at Leonard whose eyes were downcast as she passed through the courtroom in chains.
When testimony resumed, Hollingsworth led Shirley through a detailed accounting of the conversations Leonard led regarding an insurance fraud fire at her house and the participation of his half-brother Bob Leonard, Jr., an employee, Gary Thompson, and the advice of Glenn Hults, all charged co-conspirators.
Leonard promised Shirley there would be a small fire and with her history as a longtime insurance policy holder, State Farm Insurance Company would pay off on a settlement.
"I thought it was crazy but I went along with him," said Shirley. "I said, 'Okay.'"
Shirley testified that Leonard told her to box up and remove her personal valuables, including a portrait of her daughter that was hanging above the fireplace, if she wanted to save them from the fire.
The single-mother found a place for her young daughter to spend the night and boarded the family cat.
On October 27 and again on November 3, Leonard conspired with Thompson and his half-brother to burn down Shirley's house, utilizing the spark of an electronic thermostat and open valve on the gas-fed fireplace, according to the testimony.
Shirley said Leonard planned to pay his half-brother $10,000 for torching her home because her boyfriend told her, "he will do anything that I ask him to do."
Both times the couple awaited word of the success of their plot at the Hollywood Casino in Lawrenceburg with Leonard repeatedly asking Shirley if she had received a phone call from a neighbor about a fire at her house and growing more agitated as the attempts failed.
Upon their return home on November 4, 2012, and still finding Shirley's house standing, Leonard told his girlfriend to take a hotel room for the night while they tried one more attempt which she expected to fail.
"I think if they tried twice they could not do it," she told jurors.
When asked who would get the money for the insurance scheme, Shirley recalled Leonard saying, "I will, of course. I always get the money."
Shirley told jurors that she offered to clean out her retirement account and give Leonard $10,000 to call of his explosion plot but he said, "that is not enough. I want $300,000."
"I would give him anything," Shirley testified, "because I was in love with him."
For the third weekend in a row, Shirley told the jury that Leonard told her to find a babysitter for her daughter, make hotel reservations and board Snowball.
As Hollingsworth patiently walked Shirley through her story, he asked why the couple kept revisiting the Hollywood Casino.
"To put the house on fire," she answered, confirming Leonard did not want to be around when the flames broke out.
The day before the explosion, as the couple prepared to leave town, Shirley said Leonard told her to give his half-brother $40 for, "the part that we need," and that, "they met somebody on the westside, a guy who works for the gas company, and he told them how to do it."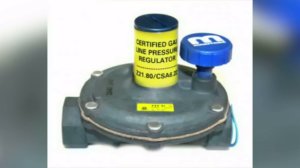 Arthur Kirkpatrick is a Citizens Energy Group employee who told investigations he met the Leonard brothers at the Gaslight Inn on Indianapolis' southside and they quizzed him about filling a house with natural gas.
Shirley testified that she spent Friday night at the casino with Leonard and most of the next day sitting in a bar because,  "he didn't have no money to play."
Shortly after eleven p.m.. Shirley told jurors that she received a phone call from a neighbor.
"'I'm glad you're alive,'" the neighbor told Shirley. "'There's been a huge explosion…your house. You don't have a house to come to.' She said, 'Everybody's okay and everybody got out.' She said it was huge."
Shirley said she immediately flew into a panic.
"'I cannot believe it,'" she recalled telling Leonard minutes after the call. "'Everything that he is telling me is not possible.' I though it was crazy that it could not be done and I said to Mark, 'This is not what you told me. There was an explosion. It's people and my neighbors and this could not be real. It's huge. It's huge.'"
Shirley said Leonard was already into cover-up mode.
"'It was done. It was done,'" she quoted Leonard as telling her on the ride back to Indianapolis from Lawrenceburg. "'Don't worry about it. Everything's under control. Don't worry about it."
After returning to the neighborhood, Shirley said Leonard told her not to talk with him in their car about the explosion, "because they might have put a bug or something in the car."
Shirley said Leonard eventually gave his brother $500 for his role in the plot while Bob Leonard, Jr., told her, "'You are in it. You are done. You are in with us.' I said, 'You have no idea. Two innocent people die in this.'"
Quietly Hollingsworth agreed, "Yes, they did."
Days after the blast Shirley said Leonard told her, "he took the step down valve from the fireplace and put it away in a place where they will never find it."
Shirley told Hollingsworth to this day that she does not know what a step down valve is.
Jurors heard testimony that the Maxitrol regulator on the gas meter was removed to introduce an excessive amount of natural gas into the house and that a Dante valve was removed from the fireplace.
"Why in the world did you go along with this plan?" Hollingsworth asked at 2:17 p.m.
"I was scared. It was never, 'No,' for an answer," Shirley said in a firm voice. "I love him so much and would do whatever to make him happy and I was scared for my life and my daughter's life."
Shirley told jurors that a dry-eye condition makes it impossible for her to show tears.
Judge Marnocha told the jury they should ignore Shirley's comments about fears for her life.
While the jury was out of the courtroom, Leonard's defense team argued in favor of introducing a television interview with Shirley in which Fox 59 News participated as evidence of inconsistent statements from the witness stand.
Defense Attorney David Shircliff began his cross-examination by doubting the accuracy of Shirley's own-admitted shifting accounts of the conspiracy.
"I'm here to tell the truth and only the truth," answered Shirley.
Shircliff then took a scattershot approach to recounting the various statements Shirley gave to investigators and her account of conversations with Leonard and her co-conspirators.
"I did exactly what Mark Leonard told me to do," Shirley said.
Shircliff noted minor inconsistencies in Shirley's testimony and succeeded in only confirming that the witness continued to minimize her role in the conspiracy.
"I knew about it and I didn't do anything to stop it," Shirley told the defense attorney while admitting that she called for hotel reservation, placed the cat in a kennel and found a babysitter for her daughter on three consecutive weekends when attempts were made to destroy her home.
"I did those because Mark Leonard asked me to do those things and I had no power to say, 'No,'" Shirley maintained.
Shircliff's questioning seemed to elicit more evidence of Shirley's guilt than Leonard's innocence though he did convince the witness to agree that, "it was everybody's intent that no one would get hurt."
That assertion would fit with the Defense team's opening statement that while Leonard may be guilty of a "stupid and selfish" insurance fraud scheme, it was never his intention to see his girlfriend's neighbors killed, which speaks to the State's charge that the defendant should have known that his actions could lead to death.
Under re-direct examination Shirley became emotional while she recounted that Leonard told her he disposed of a step down valve while she was still unsure of its role in regulating natural gas flow into her house.
"Who was making the plans?" asked Hollingsworth.
"Mark Leonard," Shirley answered. "He told everyone what to do. No one can say, 'No,' to him."
Outside the courthouse after the the trial was recessed. Deputy Prosecutor Denise Robinson said Shirley provided jurors with an insider view to the conspiracy.
"She outlined what happened on three weekends," said Robinson, recalling Shirley's testimony about the run up to November 10, 2012, when the plot finally succeeded. "She gave the jury an overview of all the conversations that took place."
Shirley tended to portray herself as a passenger on Leonard's insurance fraud voyage.
"That's what she has indicated all along," said Robinson, "and obviously it will be up to the jury what they believe, but that's been our allegation from the start, and the Probable Cause Affidavit, she was never alleged to be anything other than that."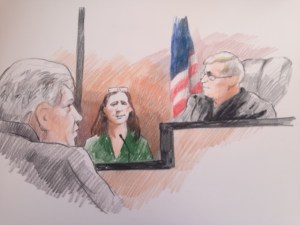 Shircliff was thwarted by Judge Marnocha from introducing a DVD of Shirley's television interview into evidence.
"She can tell the truth as easy as she can tell a lie and it's hard for the jury to know the difference," said Shircliff. "I don't think her demeanor is that much different from when she gave the media interview…her demeanor is pretty consistent throughout. She cries sometimes, she doesn't other times, but I think it's pretty consistent. Whether she's telling the truth or not, you can't tell."
Shircliff examined the details of the deal Shirley struck with prosecutors to plead guilty to reduced charges and received reduced jail time in exchange for testimony against her fellow conspirators.
"We know what this is all about," he said, "and it's not fair that Moncey gets something that Mark's not getting. If the jury finds that so, all we are looking for is equity." 
Now that Shirley has completed her testimony and been returned to the Marion County Jail, attention will turn an alleged murder-for-hire plot launched from inside that facility.
Prosecutors will call informant Robert Smith and an undercover federal agent to testify about phone calls Leonard made from inside the jail, attempting to hire a hit man to kill a witness against him.
The State argues, over Defense objections, that the "hit man plot" is evidence of the ongoing cover-up that is part of the arson conspiracy charge.