This is an archived article and the information in the article may be outdated. Please look at the time stamp on the story to see when it was last updated.
INDIANAPOLIS, Ind. — One of the country's biggest horror conventions returns to downtown Indianapolis at a new location.
The Indiana Convention Center (100 South Capitol Avenue) is the new home of HorrorHound Weekend which starts Friday, September 6 and runs through Sunday, September 8.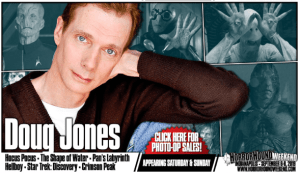 Hosted by HorrorHound magazine, the convention boasts another huge list of celebrity guests, vendors, panels and a film festival.
According to a HorrorHound release, this year's list of guests include several cast members from the Scream and Saw film franchises.
Neve Cambell, David Arquette, Rose McGowan, and Matthew Lillard are just a few actors appearing to represent the Scream film series.
Creature-character actor and Indianapolis native Doug Jones is returning home this weekend.
The Shape of Water and Star Trek: Discovery star will also visit the FOX59 studio on Sunday morning, September 8. 
HorrorHound Highlights:
Photo-Ops Everywhere! — Patrick Wilson and Carla Gugino from the Watchmen film will also be in attendance, and HorrorHound said be sure not to miss photo opportunities with scream queen Elvira and Christine – a 1958 Plymouth Belvedere from the 1983 Stephen King film. 
Shut up and take my money! — Attendees can expect vendor tables stacked with magazines, toys and Blu-rays, as well as custom decor from stickers and placards to figurines and screen prints.
Getting ready for Halloween? —  HorrorHound said there's an entire wing of the showroom floor devoted to masks, makeup and prosthetics called Maskfest that lists over 100 vendors in "the most astounding monster-maker event of the year."
There's always music in the air — This year's Indianapolis event features An Evening with Henry Rollins on Friday night, a Saturday night concert of John 5 and the Creatures, and Anthrax legends Scott Ian and Charlie Benante will be signing on the showroom floor all weekend.
A complete list of celebrity guests and events can be found here including after-hours movie screenings and parties for the night owls. 
HorrorHound Weekend: 
Indiana Convention Center – 100 South Capitol Avenue, Indianapolis, Indiana
Friday, September 6: 5 p.m. – 11 p.m.
Saturday, September 7: 11 a.m. – 7 p.m.
Sunday, September 8: 11 a.m. – 5 p.m.
Children 12 and under get in free.
Tickets are available at the door, based on venue capacity. For pre-sale information and ticket pricing click here.
Follow Jeremiah Beaver at FOX59.com and on Twitter: @JerBearMedia