This is an archived article and the information in the article may be outdated. Please look at the time stamp on the story to see when it was last updated.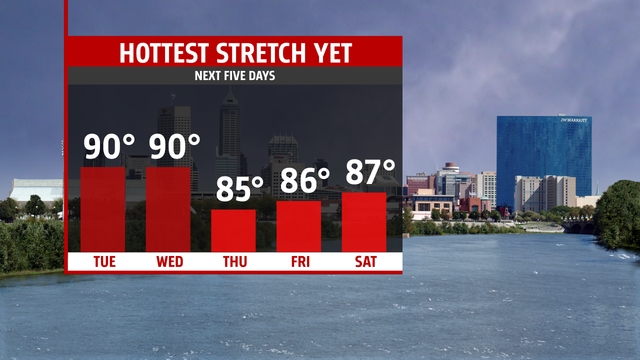 (June 17, 2014) – We are expecting the hottest stretch of the year over the next couple of days.  Highs will likely hit 90 for the first time today, Wednesday or perhaps Thursday.  We are forecasting a high temperature of 90 for today.
Not only are we tracking heat but we also continue to have some concerns when it comes to rain.  If you've stepped outside you can certainly tell that it is humid but high pressure has literally forced down any rain chance.  We continue to be on the southern side of a boundary over the next 48 hours with places along and just north of it seeing a much higher chance for rain.
It looks like it will mostly be dry through Wednesday before we begin to see the chance for scattered afternoon rain heading up Thursday and Friday.  While rain chances will go up, our temperatures will tick down during this time due in large part to the expected rain chance and more mixing in the atmosphere.