This is an archived article and the information in the article may be outdated. Please look at the time stamp on the story to see when it was last updated.
BLOOMINGTON, Ind. — Neighbors and even the mayor are voicing concerns over a big new student housing complex proposed near Indiana University.
The complex, Dunn Hill, would be located next to the football stadium at 17th and Dunn. It's an area with student housing already, but the proposed project would more than triple the number of students who live there.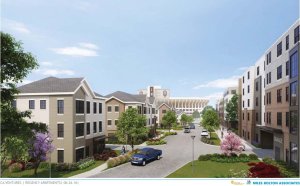 "We're a student purposed housing project here, there's no secret about that," Mike Carmin, an attorney who represents the developers, said.
Carmin and developers went before the Bloomington Plan Commission for the second time Monday.
Dunn Hill would include around 750 bedrooms and almost 600 parking spots, with both large apartment buildings and smaller townhouse buildings, as well as a public green beltway space intersecting the complex. It is a private development not affiliated with Indiana University.
Neighbors to the south, in the Garden Hill neighborhood, though, said they were concerned about the huge increase in student housing in the area.
"I would implore, no I would beg, city government and this community to re-evaluate, reassess its accommodating relationship with the university (when it comes to) housing," neighbor Phil Worthington said.
Even Mayor John Hamilton showed up at the meeting, asking commissioners to hold off on the project while his administration works to re-vamp a development strategy for the city that was last updated almost 15 years ago.
"I'm here to say I think we need a little time," Hamilton said.
Hamilton told FOX59 he wanted to make housing in Bloomington more affordable, and hoped to adopt new zoning that would require developers to contribute to affordable housing, either by offering affordable units, or by paying into a city fund for future development.
"We're trying to make sure … that we keep this city affordable to people from all walks of life," Hamilton said.
According to a 2015 study by Tikijian Associates, Bloomington has one of the highest average rents among Indiana cities, at $897. That's more than north of Indianapolis, including the Carmel and Fishers areas, which average $826, and Indianapolis entirely at $754.
Carmin and developers argued that their complex is in an area that is specifically suited to student housing since it's next to the stadium, and that offering affordable units didn't make sense because they wouldn't house working families.
The plan commission opted to follow Hamilton's advice and continue the discussion to its next meeting in August.