This is an archived article and the information in the article may be outdated. Please look at the time stamp on the story to see when it was last updated.
INDIANAPOLIS, Ind. – Police arrested two people in connection with up to 25 overdoses in downtown Indianapolis at Wheeler Mission and the surrounding area this week.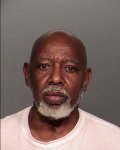 IMPD says Melvin Cannon, 59, and Nathaniel Davis, 63, were both arrested on Wednesday night. Police say they were involved in the distribution of drugs that led to the overdoses.
The investigation began around 9 p.m. on Thursday when IMPD first received reports of unconscious people at Wheeler Mission. Officers were dispatched to the area, and they continued to respond to runs about unconscious people through January 31.
Officer Eric Simmons was one of those who responded. He said the scene looked like something out of a "zombie apocalypse."
""He seemed very disoriented. We tried to talk to him and he just looked right through us," Simmons said about a man who became combative and tried to fight the officers.
Police say the total number of people who overdosed was between 21 and 25. The overdose victims were both inside Wheeler Mission and outside near the shelter. They experienced "medical issues" consistent with the use of "flakka," a street name for spice. Police say this particular mixture may have included other illegal substances like PCP. Some officers described smelling formaldehyde.  All overdosing victims were seen by IFD and medics, but police say a lot of them refused treatment.
Initially, it wasn't clear if someone left the drugs at Wheeler Mission or if someone brought the product inside. A K-9 unit went inside the shelter, but no drugs were found. IMPD was able to make the arrests after a coordinated effort between all of the units downtown.
"Unfortunately, we had a lot of people take something. We're still trying to figure out what it was, but it caused them to become unconscious. So one of the things we did was we staged an ambulance at Wheeler Mission for a quicker response in the event that someone else went down, which happened throughout the day. And since then, we've only had one additional person who overdosed," said IMPD Downtown District Commander Phil Burton.
Robert Hipple is the supervisor for IMPD's homeless unit. He said he spoke with some of the overdose victims who told him they would take the drug again, even though they had no idea what was in it.
"It's an easy fix, easy money. It's the population that is addicted, so you have your clients all right there to sell to," Hipple said.
It is unclear at this time whether anyone else was involved.
Officers are still waiting for results from the lab to determine exactly what is in the drug.
The Indianapolis branch of the US Drug Enforcement Administration said it's been a few years since the Midwest has seen "Flakka" cases. The amount of overdoses in a concentrated area during a short amount of time is concerning for special agent in charge, Greg Westfall. He said it's important to find out the results from lab testing.
"There's some people out there that will sell Drano on the streets and make it seem like it's heroin or meth," Westfall said.
He said the case has caught the attention of the DEA and they're offering to help IMPD with tools and resources. Westfall said the DEA will work to make sure dealers, especially those who choose the most vulnerable populations like the homeless and addicted, will be caught.
"They're all about profit. That's all they want and they could care less what the end result is," Westfall said.
IMPD said they plan to help The Wheeler Mission make security adjustments and are increasing patrols in the area.
In a statement posted to their Facebook page, The Wheeler Mission stated they promoted some part-time employees to full-time to help increase monitoring in the shelter.
Wheeler Mission has a zero-tolerance policy for drug and alcohol, but occasionally guests find ways to circumvent our searches. However, we've never experienced anything like this. It remains our priority to maintain a safe and drug free environment for our guests and staff. We've even promoted some part-time staffers to full-time status in order to increase our monitoring inside the shelter. Our staff at Wheeler has responded to this incident and will remain vigilant. Will you join us in prayer for our guests that have been affected? While drug use of any kind grieves us, this incident reinforces the necessity for Wheeler Mission and our long-term recovery programming. We're praying this will be the last time something of this magnitude happens inside Wheeler Mission.