This is an archived article and the information in the article may be outdated. Please look at the time stamp on the story to see when it was last updated.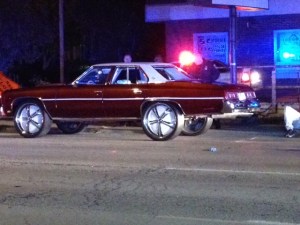 INDIANAPOLIS, Ind. (Oct. 5, 2014) — Police are investigating two shootings early Sunday morning, that happened within 20 minutes of each other, and just 2 and a half miles apart.
First, a man was shot downtown in the area of Delaware and St. Joseph streets around 3:35 a.m.
Police say three other people with the man tell them they were all leaving a club and getting into a car when the man was shot in the back.
The men took off with their injured friend, driving north on Delaware St. to take him to the hospital. The driver said he was running red lights trying to get there, when police pulled them over. The victim was taken to Methodist in serious condition, but police say it is not life threatening.
Police have not released the victim's name, but say he is 28 years old.
The other three men have been taken in for questioning and to give statements. Police found bullet holes in the car and have towed the vehicle as part of the investigation.
One witness tells Fox59 seven shots were fired.
About 15 minutes after that shooting, a second person was shot on the near west side, in the 2400 block of West 16th Street. Police say that man was awake and breathing when he was taken to the hospital.
Police have not said if the two shootings may be related.
If you have any information about this shooting, you're asked to call Crime Stoppers at (317) 262-TIPS.