This is an archived article and the information in the article may be outdated. Please look at the time stamp on the story to see when it was last updated.
INDIANAPOLIS, Ind.– The Indianapolis Metropolitan Police Department (IMPD) says one of their officers was suspended without pay with a recommendation for termination after he was arrested on multiple charges.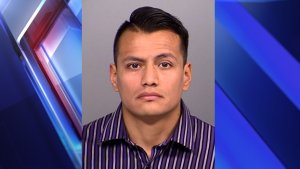 IMPD says 10-year veteran Francisco Olmos was arrested on Thursday and charged with obstruction of justice, a Level 6 felony, and computer trespass, a Class A misdemeanor.
He's accused of accessing the cell phone of a victim in a death investigation and deleting data, including text messages and social media communication between them.
On Nov. 2, 2015, an 18-year-old female committed suicide at her home. The prosecutor's office says the woman was an IMPD Explorer and had known Olmos for about nine months. Court documents show Olmos told investigators that he and the woman communicated almost every day.
The Explorer program is a collaboration effort with IMPD and the Boy Scouts of America. It gives youth an opportunity to explore a career in law enforcement, IMPD's website says. The program has been around since 1970.
Court documents show the victim joined the program at age 16 and had done about 15 ride-alongs with Olmos and they would occasionally exercise together on the main trail at Fort Harrison.
Olmos told investigators he had come to the woman's home to check on her after becoming concerned about not receiving a response from her after multiple attempts.
On the day she died, she called Olmos around noon, according to court documents. Olmos told investigators she said, "'I want you to know something.' I was like, what's that? She's like, 'I want you to know that you're a really good officer. You're a great officer. You're gonna make a fantastic SWAT officer.'"
He claims she said she couldn't talk to him anymore, and it wasn't his fault. She said 'I love you' before hanging up the phone, but had never said that before. He said this worried him and she didn't answer any more of his calls.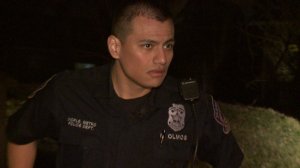 The victim was found dead by her father. She had shot herself in her room while music was playing from her phone.
Olmos asked for her phone, and the father gave it to him. Prosecutors say he then accessed several apps within the phone to delete messages and then left the phone at the home. The phone then had a password on it, which family members said was strange because none of them used a password.
Using recent advancements in cell phone technology, detectives were able to examine the phone. The phone could now be unlocked, which allowed police to view messages once thought deleted. IMPD says this technology was not available to them prior to August 2017.
The following are excerpts from the messages Olmos sent her, which court documents show were recovered by police:
"Please don't do this to me. Don't go over there. I'm here and you said I was Here. You said you would show me. You said you would see me. Why are you doing this to me. Please don't go over there."
"How can you ignore me like I'm just one of them."
"You are gonna make me look so stupid in front of your family. I'm going to knock on your door"
"I don't know what the point of ignoring me is. You make me feel like this is really all my fault."
Many of these messages went unread and were later deleted. He has denied any sort of intimate relationship with the victim.
Forensic analysis of the teens phone discovered 300 calls between the two from September 19, 2015- November 2, 2015,  the day of the teens death. They also discovered 177 messages from October 21, 2015-November 2, 2015. There were 22 calls placed on the day of her death.
Investigators submitted their findings to IMPD Chief Bryan Roach, who immediately suspended Olmos without pay and recommended his termination, which will be decided by the IMPD Merit Board.
Olmos has been employed with IMPD since October 2007. He was most recently assigned to East District late shift.
Marion County Prosecutor, Terry Curry, said the allegations are frustrating.
"No matter what the motivation was, it was thoroughly inappropriate," Curry said. He added, "certainly, we can't determine exactly why he did it, however, any police officer would know that at that sort of scene, even if it was apparent at that time it was a suicide, the first thing that would need to be done would be to notify homicide and secondly and most importantly, not to disturb anything that's there on the scene."
Curry also said he doesn't expect additional charges in the case.