This is an archived article and the information in the article may be outdated. Please look at the time stamp on the story to see when it was last updated.
INDIANAPOLIS, Ind. (May 30, 2014) — An officer with the Indianapolis Metropolitan Police Department was shot and three others were killed following an incident on Indianapolis' east side Friday morning.
Officers responded to the 2600 block of North Dearborn Street just after 7 a.m. Police were dispatched to the house after a neighbor reported hearing a woman scream.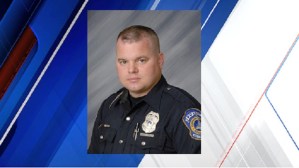 Authorities said the first arriving officer and the gunman exchanged gunfire, before the suspect, identified as 36-year-old Quintico Goolsby was fatally shot.  The officer, identified as Greg Milburn, was transported Eskenazi Health in good condition.  Police said he arrived to the scene within one minute of being dispatched to the scene.
Following a search of the residence, officers located two deceased female victims, who were identified as as 84-year-old Julia Morrow and 30-year-old Inity Morrow. Police said the women heard the suspect break in the home, so they called 911.  Julia was killed while making the call, said police.  The 911 operator told authorities that they heard a female screaming and things being slammed in the background of the call.
"It was 7 in the morning and we were in bed when we heard three gunshots, said neighbor Marvin Coffee.
"Folks that we know. She does not deserve this. We all go to go, but not go that way."
IMPD said Officer Milburn fired up to five rounds at the suspect, killing him, as he was fleeing the home.  Goolsby also fired his weapon, striking Milburn once near the abdomen.
Investigators found the suspect's car parked on the street just next to the home.  Goolsby's mother was at the crime scene and had a difficult time understanding her son's alleged involvement.
"Oh my Lord! The police killed my baby. That's all I know," Goolsby's mother said.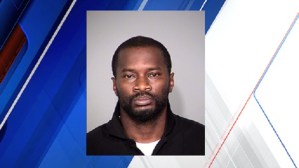 Police said Goolsby knew the victims, but the extent of their relationship is unclear at this time.
Officer Milburn, who has been with the department since 2003, was released from Eskenazi Health after several hours. IMPD said Milburn's bulletproof vest saved his life.
IMPD said despite Milburn's willingness to return to work tomorrow, he will be placed on administrative leave pending investigation. The officer's supervisors and colleagues describe the officer as "best of the best."
According to IMPD, there have been a total of 62 murders so far this year.
Victim's son speaks to @FOX59. "I hope she didn't suffer. She was a good lady." @jillglavan has more at 4PM. pic.twitter.com/TCg5a3tUSY

— Nicole Pence Becker (@NicolePence) May 30, 2014
IMPD Officer Greg Milburn is the east district officer of the year and has been the past two years. @IMPD_News pic.twitter.com/ijtfpvmnaZ

— Marisela Burgos (@MBurgosNews) May 30, 2014
MORE: @IMPD_News tells me suspect then ran out front door where Officer Milburn fired off up to 5 rounds, killing suspect. @IMPD_News

— Nicole Pence Becker (@NicolePence) May 30, 2014
MORE: @IMPD_News says when female victims heard man trying to break in, they called 911. Suspect killed them both while on phone. @FOX59

— Nicole Pence Becker (@NicolePence) May 30, 2014
Family, friends deal w/ loss of Inity Morrow & her Gma Julia. Believed shot by man friends say Inity met recently. pic.twitter.com/ZHDosXLxt4

— Jill Glavan (@jillglavan) May 30, 2014
UPDATE: Family identifies second woman found dead on #Indy's east side as Inity Morrow http://t.co/J04Tb8A9pY pic.twitter.com/jCbwP9Qo2U

— FOX59 News (@FOX59) May 30, 2014
UPDATE: Family says 84-year-old Julia Morrow was one of the two women found dead on NE side http://t.co/J04Tb8A9pY pic.twitter.com/QwT1jQmIml

— FOX59 News (@FOX59) May 30, 2014
Officer Milburn has been released from the hospital…no major injuries, going home to relax with his family #Bravery

— IMPD (@IMPDnews) May 30, 2014
https://twitter.com/MichaelHenrich/status/472359465925099520
[protected-iframe id="a71c377ec8c1e0544598d3ae0075a3c5-41641915-43615672″ info="hash" ]
[protected-iframe id="15eaffdc5d4c8bff957f3ab8b1adbad1-41641915-43615672″ info="hash" ]
[protected-iframe id="de2420b9de5a2b25c0485691214fc5fd-41641915-43615672″ info="//platform.twitter.com/widgets.js" ]
[protected-iframe id="f600ec6eeef76095a59f44daaae7a2c2-41641915-43615672″ info="hash" ]
[protected-iframe id="a3037b2db6ffe3a9c624f075f0f5f8ff-41641915-43615672″ info="hash" ]
[protected-iframe id="c833844eeeed5cddafa9a83207d14f11-41641915-43615672″ info="//instagram.com/p/ontdGnxMcR/embed/" width="612″ height="710″ frameborder="0″ scrolling="no"]