This is an archived article and the information in the article may be outdated. Please look at the time stamp on the story to see when it was last updated.
INDIANAPOLIS, Ind.– Police released new video Thursday in connection with a fatal shooting of a man on Nov. 14.
Police say Reginald Hendricks, 25, was driving a green van westbound on East Michigan Street approaching Pine Street when a single shot was fired just before 10:30 a.m.
Hendricks was rushed into surgery at Eskenazi Hospital, where he remained until he died from his injuries Monday.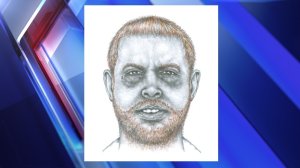 Police are searching for the suspect, who was driving a newer red Nissan Altima that was caught on surveillance cameras as it fled southbound through a parking lot and then eastbound on Vermont Street. He is described as a white male in his 30s, with red-brown hair, full red beard and a mustache.
In the video above, you can see the suspect's red vehicle just behind Hendricks' green van passing a nearby business before the shooting.
Police released a sketch of the suspect in December.
"He and his girlfriend they were just trying to make it for the future. That's what they were doing, out looking for a new place to live," said the victim's aunt Nikki Kelley.  "I guess he turned out in front of somebody. They were having words back and forth and then he went on the other side. That's when, they didn't realize it, they were just driving and the shot came through the passenger's side."
Hendricks' girlfriend grabbed the steering wheel and guided the van they were in to the curb at westbound Michigan Street approaching Pine Street that Monday morning.
Hendricks' errant driving maneuver may have been an inconvenience but certainly not worth the price of his life, said Kelley.
Anyone with information is asked to call Crime Stoppers of Central Indiana at 317-262-TIPS.