This is an archived article and the information in the article may be outdated. Please look at the time stamp on the story to see when it was last updated.
WARNING: The video above may be disturbing to some. 
INDIANAPOLIS, Ind. – Indianapolis police have released surveillance video of Sunday's fatal shooting at a northeast side Dollar General store.
Officers are asking the public to help identify the suspect who shot and killed a clerk, 41-year-old Brian Eure, who had worked at the store for three years.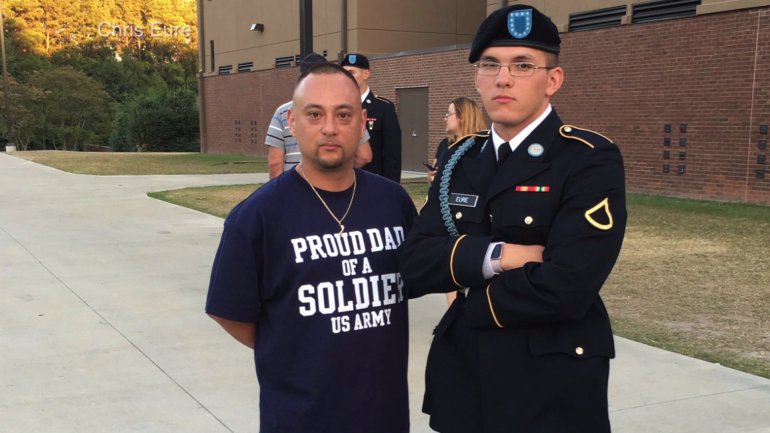 IMPD tells FOX59 that the suspect was in the store in the 5000 block of Emerson Way for about 30 minutes before he pulled out the gun.
Police say the suspect was seen wearing green pants and a backpack during the shooting. Surveillance video also shows he was wearing a Nike visor and bandana on his head.
Anyone with information should call the IMPD Homicide Office at 317-327-3475 or Crime Stoppers at 317-262-8477. To donate to a GoFundMe set up by the family of Eure, click here.
Dollar General released the following statement regarding the shooting:
The Dollar General family is deeply saddened and heartbroken over the tragic loss of our employee in Indianapolis on Sunday. Our thoughts and deepest sympathies are with our employee's family during this difficult time.

The store is currently closed until further notice and grief counselors will be available for area employees. Dollar General and its Employee Assistance Foundation are also looking for ways to best support the family at this time.

At Dollar General, the safety of our employees and customers is a top priority, and we employ a number of safety and security procedures to prevent, deter and, if necessary, respond to criminal activity in our stores. To protect the integrity of these measures, we do not comment on them specifically.

We are cooperating with local authorities investigating this crime and ask for any future media inquiries to be directed to law enforcement as to not hinder their investigation.
Surveillance image

Surveillance image

Surveillance image

Surveillance image

Surveillance image

Surveillance image

Surveillance image

Surveillance image

Surveillance image

Surveillance image

Surveillance image

Surveillance image

Surveillance image

Surveillance image

Surveillance image

Surveillance image

Surveillance image

Surveillance image

Surveillance image

Surveillance image

Surveillance image

Surveillance image

Surveillance image

Surveillance image

Surveillance image

Surveillance image

Surveillance image

Surveillance image