This is an archived article and the information in the article may be outdated. Please look at the time stamp on the story to see when it was last updated.
INDIANAPOLIS, Ind.– IMPD released a surveillance photograph Sunday of a person of interest in a shooting incident that left six people wounded in downtown Indianapolis Saturday night.
The male was wearing a dark color sweatshirt with a light stripe on the sleeve and dark jeans.
Shortly before 11:30 p.m., gunfire at the intersection of West Maryland and North Illinois Streets wounded three teenagers and three adults.
One of the juveniles, a 15-year-old boy, was also involved in a shooting that left four people wounded at the same location in early May.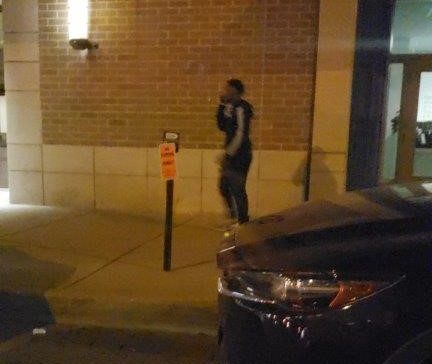 The three wounded adults include a 61-year-old woman from Noblesville, a 30-year-old man from Cumberland and a 31-year-old man from Brooklyn, New York.
"That makes it's a double or triple (priority) to protect people who are just down there trying to enjoy themselves," said Mayor Joe Hogsett.  "Despite what happened last night, downtown remains probably the safest place in the entire city of Indianapolis. I want to encourage people to keep that in mind."
The man who wants to replace Hogsett as mayor, State Senator Jim Merritt, a republican from Indianapolis' north side, said his thoughts the next morning were with friends who almost found themselves in the middle of the shooting while out for dinner Saturday night or visiting Atlanta Falcons fans who might be looking for a meal downtown after the Colts game.
"Last night was an ugly evening on this street corner," said Merritt as he stood at the shooting scene less than 12 hours after the echoes of gunfire faded. "How many more nights are we just gonna have to make this part of the status quo? Status quo Joe. Its all about being re-elected and schmoozing along.
"When I become mayor I will have a public safety director who will be here on this street corner last night. I will have a chief of police who will be understanding exactly what is going on in Indianapolis and he or she would have been here last night. I will have a police department that will keep us safe."
Merritt continued to promise the appointment of a public safety director and deputy mayor who will focus on crime if he's elected.
"We will have the swarm technique," he said. "We will have a concentrated workforce of police officers all around this city of Indianapolis. This won't happen when I'm here. But if I was mayor last night, there would have been police officers everywhere. The swarm technique would have happened."
Mayor Hogsett said he would confer with Police Chief Bryan Roach about the dispute that led up to last night's shooting, the search for the person of interest and plans to secure the downtown in anticipation of the Circle City Classic game and parade this coming weekend.
"As it relates to the Circle City Classic coming to town, I would anticipate a peaceful and safe weekend," he said. "Last night was one of these unpredictable disagreements between a group of individuals that unfortunately turned tragic. IMPD will work diligently to avoid those situations and will dive deep into last night's incident and learn how to better respond."
Merritt continues to emphasize that if elected, "We will know what is going on with the grassroots. Its all about data collection. Its all about relationships," though most of his anti-crime promises hang on the re-establishment of the role of public safety director which Hogsett eliminated in 2016.
"Mayor Joe thinks he can handle the police department as his own public safety director. How is that going right now for us?" asked Merritt. "When I become mayor, those six people who were shot at last night will be safe. The streets of Indianapolis will be safe."
"Tragedies of these nature are not partisan and they are not political," said Hogsett. "They are just simply tragedies that as a community we need to meaningfully come together and address."
Hogsett recently announced increased spending for IMPD, more than $1 million for a police body camera program, the anticipated hiring of two more community peacemakers to respond to crime in Indianapolis neighborhoods, an all-time high of 1743 officers on the streets and in the police academy by the end of the year, two percent raises and higher starting pay for IMPD officers and improved police communications systems.
Merritt said he will do better.
"I believe we will have better recruiting, better equipment and we will have better training when I become mayor," he said. "The brass, when I'm mayor, the chief of police and his or her lieutenants, will be working in the communities, not in the jail."
The elected Marion County Sheriff has authority over the Marion County Jail.
During recent budget hearing, IMPD Chief Bryan Roach told city county councilors that overall crime was down four percent during the first five months of 2019 when compared with the year before.
If you recognize the person of interest in the surveillance photograph from Saturday night's shooting, call Crime Stoppers at 317-262-TIPS (8477).