This is an archived article and the information in the article may be outdated. Please look at the time stamp on the story to see when it was last updated.
FLOYD COUNTY, Ind. – A man has been arrested for allegedly threatening to kill Republican presidential candidate Donald Trump, according to court documents.
Richard Deville Jr., 26, of Clarksville, is accused of making threats against Trump and his family in a YouTube video, where he waives around firearms.
He has been charged with unlawful possession of a firearm by a serious violent felon and intimidation.
A secret service special agent involved in the investigation says another secret service agent alerted him to the video on Tuesday.
The agent says the IP address from the video was used to identify Deville as the user.
Court documents say the agent went to interview Deville, who was detained for an unrelated domestic situation.
During the interview, Deville gave the agent his phone number that the agent says matched the number associated with the posting of the video. The agent says Deville also admitted to making the video.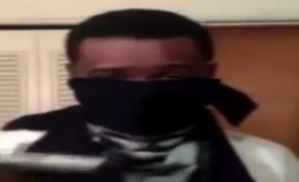 "Deville told me that he produced the video and posted it to YouTube because he thought it would make him look cool," the affidavit states.
Deville told the agent that one of the guns in the video belonged to a friend and the other belonged to his girlfriend.
Deville is currently in the Floyd County Jail. He is expected to be arraigned Friday.