This is an archived article and the information in the article may be outdated. Please look at the time stamp on the story to see when it was last updated.
TERRE HAUTE, Ind. (September 18, 2014) – Indiana State University issued a crime alert Thursday morning regarding a message on a blog.
Access to university residence halls is being restricted to students only as a result.
According to the ISU Police Department, at approximately 11:30 p.m. a student was on the ISU blog of the "Yik Yak" social media app.
The student saw an anonymous message that read, "I wonder if this school shooting is going to go as planned tomorrow."
The student replied to the message saying "That's not funny man I should report this!"
Within 90 seconds the post was removed.
Police say it is possible that this message was a hoax, and there has been no corroborating information received to support this.
On Thursday afternoon, the university sent out a second alert after a note was found in a bathroom at University Hall: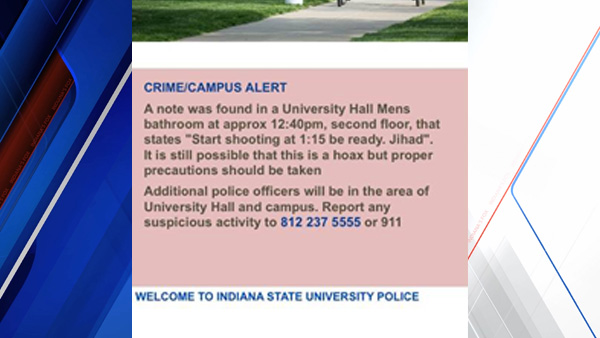 According to the ISU Police Department, it is their procedure to share any information that may be a threat to the campus community. All local law enforcement agencies have been advised.
Police are asking anyone to report any suspicious activity by calling 812-237-5555 or by calling 911.