This is an archived article and the information in the article may be outdated. Please look at the time stamp on the story to see when it was last updated.
EVANSVILLE, Ind. – A Walmart in Indiana is under fire after a photo of a gun display quickly spread online. The sign above the gun display reads "own the school year like a hero," it and appears to market the firearms as back-to-school items.
FOX59 traced back the original photo, which appears to have been tweeted by a woman named Leanna on Wednesday morning. FOX59 spoke with Leanna who confirms she took the photo, and she provided us with the original copy.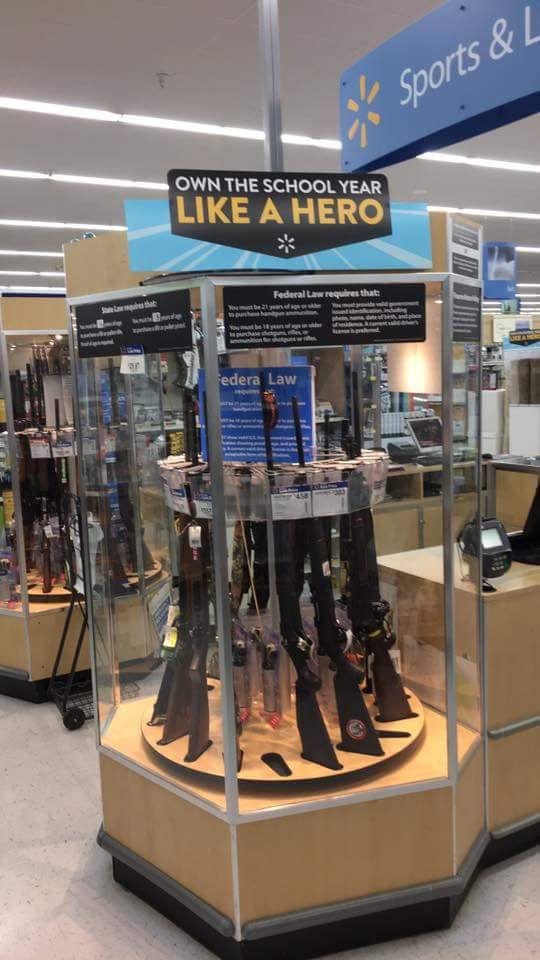 Walmart responded to the tweet , apologizing and saying the display would "NEVER be okay" in their stores. The company issued the following statement on Wednesday: "What's seen in this photograph would never be acceptable in our stores. We regret this situation and are looking into how it could have happened."
https://twitter.com/walmarthelp/status/895477465870741508
About an hour and a half after Leanna tweeted the picture, Walmart said the sign was removed from the display.
https://twitter.com/Walmart/status/895276735343755264
Walmart later confirmed in a tweet on Wednesday afternoon that the picture was taken at store #1341. That location is 335 S Red Bank Rd, Evansville, IN 47712, according to Walmart's website. Leanna also confirmed with FOX59 that it was taken at the Evansville location.
Good question. This was Store #1341. I hope this helps, Jared and we want you to know we are truly sorry for this. -Vik

— Walmart (@Walmart) August 9, 2017
However, Walmart spokesman Charles Crowler told FOX59 that was incorrect. Crowler says the picture does not match the display at the Evansville location.
He also said the Walmart staff incorrectly identified the store, and he called it a "misunderstanding." He said they are still searching for the display's origin.