This is an archived article and the information in the article may be outdated. Please look at the time stamp on the story to see when it was last updated.
UPDATE (Oct. 15, 2018)– Raymond Fairchild pleaded guilty to public indecency, and other charges including public nudity were dropped. He received a suspended one-year sentence.
Original story: 
INDIANAPOLIS, Ind. – An Indianapolis attorney is facing charges after allegedly exposing himself to high school girls on buses.
Raymond Fairchild was officially charged with public indecency and nudity Thursday, according to our newsgathering partners at the IndyStar.
The 71-year-old is accused of exposing himself to a girls basketball team while driving a light blue Honda CR-V on I-70 on June 15. The girls' coach later posted photos of the flasher on Facebook, asking others to help identify the man.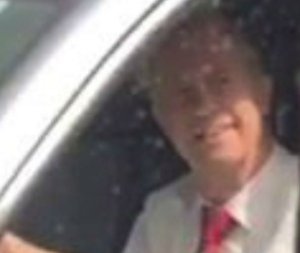 The post was shared with members of the Union City High School girls basketball team, who reportedly recognized the photos as the same man who exposed himself to their bus on I-70 on Feb. 22.
Two other people who saw the Facebook post told Indiana State Police investigators that Fairchild was the man in the photo.
Fairchild's law license was suspended on Sept. 1 on an unrelated disciplinary matter.
The attorney's trial is set to begin in February.