This is an archived article and the information in the article may be outdated. Please look at the time stamp on the story to see when it was last updated.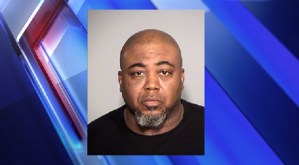 INDIANAPOLIS, Ind. (Dec. 30, 2015) — An Indianapolis bounty hunter accused of killing two teenagers made his first court appearance Wednesday.
Kevin Watkins was charged with murder in the deaths of 16-year-old Dionne Williams and 15-year-old Timmee Jackson. In court Wednesday, a not guilty plea was entered on Watkins' behalf. He faces two counts of murder in the case and is due back in court on Feb. 16, 2016, for a pretrial hearing. Watkins owns "Watkins Bail Bonds" in the 6000 block of Massachusetts Avenue.
After the hearing, a scuffle broke out between several people. During the incident, people yelled and punches were thrown. Extra deputies had to be called in to help break up the fight, and two people were taken away in handcuffs.
The teens hadn't been heard from since around 8 p.m. on Christmas Eve, according to family members. Dionne Williams was having problems with some residents in the 5900 block of East 23rd Street, where Watkins lived, according to his mother. Police found blood on the back bumper and rear doors of an SUV parked in Watkins' driveway. They also found two blood trails leading from the home to the garage of a vacant home next door.
Inside the SUV, police found blood and a garbage bag full of bloody clothing, according to court documents. There were pieces of bone and apparent brain matter on the clothing, bloody leaves, pieces of bloody toilet paper and one fingertip, court documents said. Investigators also found a package for a SOG Tactical Tomahawk, although the tomahawk was not located.
Court documents said Watkins believed Williams was involved in a previous burglary at his home and even confronted Williams' girlfriend about the incident.
Following the fight outside the courtroom, grieving family members said the pain of losing the two teens was only made worse by not knowing where their bodies are.
"Since he didn't die right, I want him to be buried right," said Pleasure Jackson, sister of Timmee Jackson.  "He was always laughing, giggling.  He was on the football team.  He was just a kind person"
Marion County Prosecutor, Denise Robinson said the search for the teens' bodies was ongoing, even as the double murder case moves forward.  She said detectives gathered enough evidence to prove a double homicide had occurred, and Kevin Watkins was responsible.
"From a prosecution standpoint, (finding the bodies) is not all that important," Robinson said.  "The significance of it is for the family members."
Robinson also commented briefly on the fight following the hearing.
"We understand the stress for the family members involved, and hopefully that's something that we can begin to move past," Robinson said.
A small number of Kevin Watkins' family were also present in the court hearing.  Kathy Parks Winfrey, the mother of Watkin's 22-year-old son, said she didn't believe the allegations being brought against Watkins.
"Family is praying for him because we know that he didn't do it," Winfrey said.  "He's a good person, all this to me is very shocking."
When asked about the possibility of more charges or arrests in the case, Robinson would only say that the investigation is ongoing.
Kevin Watkins is being held without bond in the Marion County Jail.  His next court hearing is scheduled for February 10.